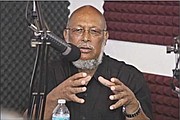 By DENISE MAYCOCK
Tribune Freeport Reporter
dmaycock@tribunemedia.net
SAVE The Bays (STB) has pledged its full support behind the Grand Bahama Environmental Association (GBEA) for the relocation of residents affected by industrial pollution and to raise awareness of its association with health-related illnesses and deaths in Grand Bahama.
Joseph Darville, chairman of STB, believes the plight of residents in the affected communities has not being taken seriously by successive governments.
In addition to chemical emissions, the environmental and human rights activist claims that millions of gallons of spilled oil have settled underground, contaminating fresh water in Pinder's Point and the other surrounding settlements near the industrial plants.
"It is really dangerous and criminal to allow residents to live in those areas and suffer on a daily basis," Mr Darville said.
"One of the rights that every Bahamian has according to international law is to be able to breathe fresh air and to have clean water and these are being denied the people in those areas. The people should not be subjected to common residency in such a situation."
The STB chairman claimed Edward St George, the late chairman of the Grand Bahama Port Authority, shared with him the extent of the industrial pollution in Grand Bahama.
He said three months before Mr St George died, he revealed to him there were millions of gallons of oil spilled under the ground in the whole area.
"We were having a conversation and he said: 'Joe Darville, I should have listened to you when you complained so persistently about the industrial area and what the people were subjected to'."
It was Mr Darville's initial activism and protests in the 1980s that were instrumental in the relocation of schools from the area.
After the Grand Bahama Catholic High was granted permission to relocate by the Catholic Board of Education, land was provided by the Grand Bahama Port Authority. He continued his advocacy to Mr St George and Sir Jack Hayward to remove all of the schools out of the area.
"The fact that I was relentless in getting the schools relocated was what had convinced him (Mr St George). Edward shared with me that they dug a number of wells in that area all way to South Bahamia and said every well they dug came up saturated with oil," Mr Darville said.
Mr Darville noted in any country that has environmental protection laws, companies would have been required to construct underground barriers to stop oil spills from the storage tanks.
"Mr St George said that was not done, and he said that oil will continue to saturate to the area which means those people are living under a time bomb," Mr Darville claimed. "If there was a catastrophic fire or explosion in that industrial area that whole area of Pinder's Point, Lewis Yard, Hunters, and Mack Town, would be blown to smithereens."
Mr Darville also believes the prolonged exposure to industrial pollution could be linked with several cancer-related illnesses and deaths in Grand Bahama.
He supports the stance taken by the GBEA when it rejected a report of the findings of an environmental and health risk assessment study conducted by the Pan-American Health Organization (PAHO) and the World Health Organization (WHO) that there are no health risks posed to residents living near the industrial plants.
"People should not be living there," Mr Darville said. "If one person dies from cancer because of the pollution in that area that is (enough) to have people removed from living (there) or students going to school there."
He reported more than a dozen of the 98 students from his 1982 class have died. "Fourteen of them have predeceased me, and reports from the doctors of 12 of them said they had died of cancer."
He said that he too has had his brush with cancer.
"In 2010, I was diagnosed with prostate cancer. However, in connection with that there was a tumour in my bladder and when the biopsy report came back the first question one of the oncologists asked me was, 'did you smoke all of your life?' I said 'no.' He asked, 'did you work or live around an industrial area?' I said 'yes.' I was principal for 10 years in that area before school removed."
Mr Darville said his doctors told him that that type of tumour only develops as a result of industrial pollution.
"I told this to the PAHO and WHO people, and even in my discussions with them. I don't think they were really in the mindset to be convinced of the complaints that so many people made to them.
"We had town meetings in Pinder's Point and residents have cried and lamented about the neglect by the different administrations not responding to them.
"The GBEA have not been able to get reasonable response from either the former administration or present, and STB will put our full weight behind them," he said.
"We will liaise with their association to make sure all necessary pressure is brought on the powers that be, the Port Authority, the industrial area, and the government.
"I don't think they or myself have any beef with the industrial area because the fact is that that is not going to go away, but the people can be removed and that is the critical issue.
"It is criminal and it is against international law, and at least the UN declaration, to subject people to such hazards when there is an alternative."
More like this story