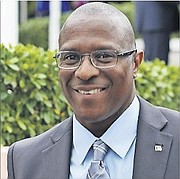 BY DENISE MAYCOCK
Tribune Freeport Reporter
dmaycock@tribunemedia.net
Construction will begin in 2018 on multi-purpose Junkanoo facilities in The Bahamas, Minister of Youth Sports and Culture Michael Pintard said, having already received commitments of over $700,000 towards the project from private corporate citizens.

He indicated that the project would be a public-private partnership, with the goal to build at least seven facilities throughout the country next year.

Minister Pintard said they are already looking at land in Grand Bahama, Exuma, and New Providence, and have met with Junkanoo leaders to discuss the project.
He said: "I want to thank the Grand Bahama Port Authority for partnering with us in terms of looking at a land grant, and a gentleman in Exuma who donated half an acre toward project there; we are now negotiating with families to sell land for the Junkanoo groups in New Providence.
"We've had a commitment from five corporate citizens for $750,000 toward the project. So it is a public-private partnership, and the Junkanoo groups will have to (contribute as well). So it is a collaborative effort, and the Prime Minister is very excited about it. We are expected to construct a minimum of seven of these throughout the Bahamas next year," said the minister in Grand Bahama.


Mr Pintard explained that the facilities would comprise of a logo store, performance space, creative space, small cafe and a recording studio.
He stressed that the ministry has had two meetings with Junkanoo leaders regarding the project and discussed the need for groups to be self-sustaining.
"Every year they have to go out and raise capital from corporate citizens who have been pretty consistent, but they have a challenge making this commitment over the next 10 to 15 years. And so a part of assisting the groups is by suggesting that if they have a facility that has income generating components they can be in a position to generate funds equivalent to what they are getting from the corporate community," he explained.
"It is not a new idea and has been discussed for 25 years, but it will happen in 2018. We presented floor plans, and are working with Axum Architecture firm.
Mr Pintard said that groups would be able to sell their paraphernalia in the logo/gift store. He said students and visitors could visit the facility to see the history of Junkanoo, how they create costumes.

"We are also recommending for the upstairs meeting rooms and a recording studio – we believe it can be transformative for the culture," he said.