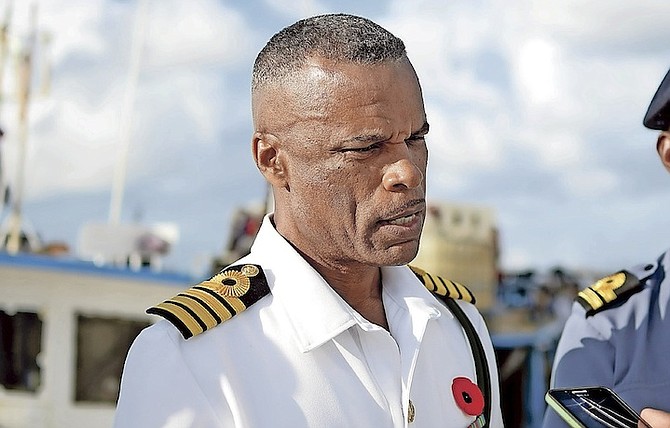 By Sancheska Dorsett
COMMODORE Telis Bethel said yesterday he was "concerned" but not "embarrassed" that for the second time in less than about a month, an illegal sloop landed within a few miles of the Royal Bahamas Defence Force's (RBDF) Coral Harbour Base.
In an interview with reporters at the base, Commodore Bethel said the landings served as "lessons" and the RBDF is "making the necessary adjustments" to ensure it never happens again.
He said while the RBDF does not have all the tools necessary to fight drug and gun smugglers, poachers and illegal immigrants, they have long-term and short-term solutions going forward, including completing the plan for RBDF bases in Inagua and Ragged Island. Plans, he said, began in 1996 that are "slowly and gradually" coming on stream.
Commodore Bethel said illegal immigrants have become "more desperate" and "continuously change the way they enter the country" by finding loopholes in the RBDF's operations.
"We have to make the necessary adjustments and there are some things we have to learn along the way. While we want to, at best, stop migrant smuggling, the reality is there are some gaps that exist and in some occasions, they will come through those gaps," Commodore Bethel said.
"They shift, we shift, they adjust, we adjust but the good news is with every incident we are learning, improving, adjusting and adapting but that is the immediate measure.
"Another aspect is the development of a multi-agency security programme that would involve the defence force and all of the other security forces such as the police, immigration and customs. That is something the Minister of National Security Marvin Dames has directed us to develop and that is in the process. It is a short-term course of action to address migrant vessels coming ashore and gun smuggling and drug smuggling...
"In the short-term we are adjusting our placement of troops on the grounds as well as the patrol craft in the short-term and also here on the main island we are extending and working more with our onshore/offshore patrols."
On Monday, a boat "loaded" with Haitian migrants landed near Clifton Pier, about three miles from Coral Harbour. This is the second time in about a month an illegal sloop has landed near the RBDF's Coral Harbour Base.
The illegal landing prompted Progressive Liberal Party (PLP) Leader Philip Davis to call for "heads to roll," saying an explanation is needed from authorities.
On Monday evening, the RBDF said 57 people - 43 men, 11 women and three children - were taken into custody and transported to the Carmichael Road Detention Centre.
"Certainly, it is a concern for us," Commodore Bethel said yesterday.
"I think it would be an embarrassment if in my thinking there is no solution or way ahead but with each incident there are things that we learn about how they are operating and what they are doing and then we make the necessary adjustments. I would have a real concern if we are not changing and improving the way we do business with the incidents. And the reality of our situation is this, we are neighbours to a country that has serious problems and the people are prepared to take extreme measures to find a better way of life.
"Long term, we are still unfolding our decentralisation programme where we are in the process of establishing the bases in the north, central and southern Bahamas. Currently we are more Nassau-centric in respect to our operations, in other words all of our ships and even our aircraft are deployed from Nassau.
"What we are working towards, for example, is the establishment of a base in Inagua as well as a base in Ragged Island, with a base in Inagua that can accommodate our patrol craft as well as our aircraft for long term deployment. Then you are better positioned to maintain coverage of areas and access points for migrants, gun and drug smugglers."
On Monday, head of the Immigration Department's Enforcement Unit Kirklyn Neely said immigration officials are bracing themselves for an "influx" of illegals. He said the holiday season "usually sees about three to four" Haitian sloops illegally land throughout the islands.
In response, Commodore Bethel said the RBDF is prepared and have "positioned themselves" to address the issue.