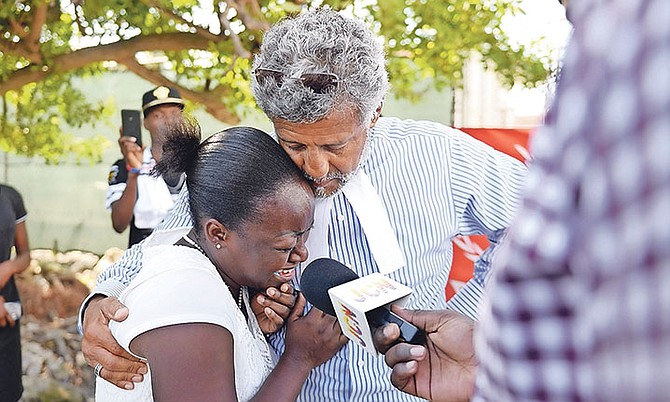 By Alicia Wallace
The story of Jean Rony Jean-Charles has been flooding social media, raising questions, highlighting glaring issues and exposing the flawed value systems of many among us over the past week.
Trying to get accurate information on what transpired with Jean-Charles is like trying to catch a chickcharnee. Who should we expect to have information on his whereabouts when the Detention Centre and Department of Immigration are both incapable of providing proof of their actions and the Haitian Embassy has no record of his supposed deportation? Further, how do we justify repatriation when a person is not sent to the country of their birth?
Jean-Charles was born in The Bahamas to Haitian parents and is said to have never travelled outside of the country. He was detained for three months and is now effectively missing. We do not know where he is and his family is concerned. Really, we should all be concerned. When people are taken into custody and disappear without a trace, there is a serious problem. This should be obvious. It isn't. Why not? Because, to far too many Bahamians, Jean-Charles is not a human being. He is not deserving of dignity and respect and full access to human rights. He is not a person with a family. He is a Haitian.
We, Bahamians, think we are special. We see Bahamian citizenship as an exclusive good. We are happy to access and give our children access to other nationalities and nations, but believe Bahamian citizenship and The Bahamas must be kept for ourselves. We want it all. We want to take what we are not willing to give. We even pride ourselves on this attitude, leaning on the law to support our narrow points of view. We belabour the definition of Bahamian and how citizenship can be gained according to the The Constitution of The Commonwealth of The Bahamas and the Bahamas Nationality Act. This is what makes us better than the other — the non-Bahamian.
We have a complicated relationship with the foreigner. We strive to be as good as the European and the North American foreigner and we look down on the Caribbean foreigner.
We have bought into the myth that Gross Domestic Product is an appropriately comprehensive measurement of value and stability.
We are proud of the extent to which we have been Americanised and constantly try to divorce ourselves from the history and continued struggle we share with Caribbean countries.
We set ourselves apart, calling everyone else "other", failing to see we are the other.
We are caught up in our false Christianity as a nation, refusing to be our brothers' keepers in favour of amassing wealth that cannot possibly be the loftier goal we are meant to march toward.
We do not see that in leaving our brothers and sisters behind, we betray our ancestors, spit on history that should guide our steps and contribute to a negative narrative of nationhood that will not help us when we become climate refugees.
Yes, our time will come. By then, our borders may be too tight and death and disappearance toll too high to engender empathy or kindness from any nation that might otherwise be inclined to offer assistance.
The Bahamas has the right to protect its borders. Few people would disagree. It does not, however, have the right to endanger or cause harm to people of any country. It cannot be excused for violating human rights.
The Universal Declaration of Human Rights is clear in its 30 articles that state and protect the rights and freedoms of all human beings. It includes the right to a nationality, to seek asylum in another country, recognition as a person under the law, a standard of living adequate for health and wellbeing and protection from arbitrary arrest or detention.
The Bahamas has signed the declaration and must abide by international law. Unfortunately, the Universal Declaration of Human Rights does not govern individuals. It is not part of our curriculum, so many are unaware of it, or do not understand the commitment.
That aside, we are not doing enough to sensitise the Bahamian people to the plight of migrants from Haiti or other countries, or the obligation we have as signatories and, let's not forget, a Christian nation.
Haiti is one of the poorest countries in the world and the world is well aware of its political and economic instability, economic inequality and vulnerability to natural disasters. According to the World Bank, 59 percent of Haitians live below the poverty line of $2.41 per day. In 2016, Hurricane Matthew damages were almost one-third of GDP.
The Bahamas, in comparison, is the land of plenty. To hear many Bahamians tell it, this country is populated by Christian people who love their neighbours as themselves and find ways to share five loaves and two fish with thousands. Sadly, we do not live up to this reputation. We, on the contrary, fail to see certain foreigners as people. If they do not come by plane with credit cards and US dollars to gamble in casinos, get their hair braided and buy mass-produced non-Bahamian souvenirs, they are of no use to us.
If they are looking for a better life and intend to work, we see them as thieves, coming for what is ours, even if we are not willing to do the same work to access it. We had probably convinced ourselves that we only have the problem with Haitians because of their large numbers and illegal entry, but the national response to the government's assistance to Dominica proved otherwise. We have a problem with helping. We are willing to put our hands out, but not interested in giving a hand up.
We, who go to Florida to give birth so our children can have American citizenship, have a problem with migrant people.
We, who think ourselves too good to weed, cut the grass, shape hedges and wash windows, have a problem with migrant people.
We, who raise and educate our children to live a better life in a better place, have a problem with migrant people.
We, who were stolen and loaded on to boats, dropped off and made slaves across a chain of islands, have a problem with migrant people.
We, who don't know where we are really from because we left many decades, generations, languages and plantations ago, have a problem with migrant people.
We, who pride ourselves on the bit of colour or soft hair or whatever other sign of mixed identity we can find, have a problem with migrant people.
We forget that we are migrant people. We forget that the Haitian Revolution was the beginning of our freedom, or maybe we just don't know. Maybe we don't know about Saint-Domingue in the late 1700s. Maybe we don't know we might not actually belong here either, or that everyone deserves to be treated like human beings, or that no human being is illegal and there is a difference between a person and their actions, or that we are going to need somewhere to go before the end of this century.
Maybe we don't understand English. We may need to get the message in French.