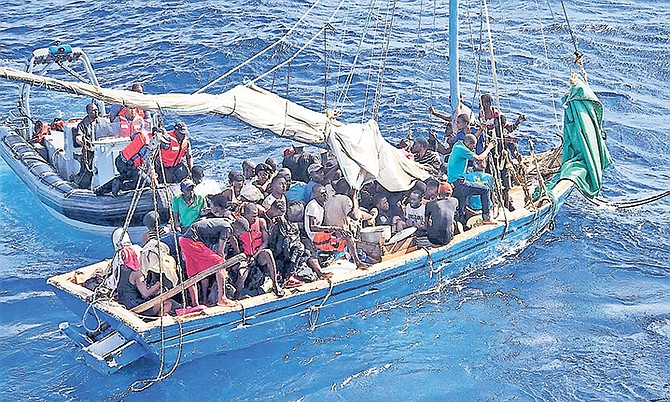 THE Royal Bahamas Defence Force (RBDF) apprehended more than 100 migrants in two separate exercises on Saturday and yesterday.
Most of the migrants were Haitians who were found aboard a sloop near Inagua on Saturday. According to the RBDF, HMBS Leon Smith, commanded by Lieutenant Commander Stephen Rolle, was on patrol in the southern Bahamas when it intercepted, boarded and subsequently detained the vessel some 30 miles southwest of Great Inagua.
The vessel was sighted and reported to the RBDF's Operations Command Centre by a US Coast Guard fixed wing asset which was also operating in the area.
The vessel which originated from Île de la Tortue, Haiti, had a total of 87 migrants - 72 males, 12 females and three children - on board.
On Tuesday morning, 14 foreign nationals from five countries were apprehended for illegal entry into the Bahamas by members of the RBDF's Harbour Patrol Unit.
While on routine patrol after 5am, HMBS P-40 spotted a 36-ft Sun Dancer Cabin Cruiser named "Code Blue" near Montagu Beach. After conducting a routine boarding and search of the vessel, it was discovered that the 14 individuals on board did not possess the necessary documents to enter the country.
The vessel and its crew were subsequently taken into custody. The foreigners, consisting of nine Ecuadorians, one Colombian, one Dominican, one Jamaican and one American were later handed over to police and immigration officials for further investigation.
The RBDF said it has been involved in the apprehension of 1,200 migrants, mostly Haitian nationals, for the year.