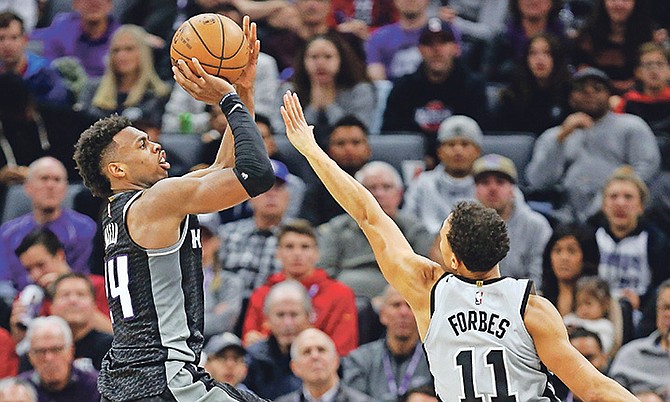 By RENALDO DORSETT
Tribune Sports Reporter
rdorsett@tribunemedia.net
AFTER spending 24 games coming off the bench, Buddy Hield returned to the starting lineup for the Sacramento Kings.
In two starts, Hield has continued the pace of production he established since the month of December began and scored efficiently in both games.
Hield finished with 24 points and a season-high eight rebounds in a 108-99 loss to the San Antonio Spurs on December 23.
He shot 9-17 (52 per cent) from the field and 4-7 (57 per cent) from three-point range in 32 minutes.He followed with just 10 points in 18 foul-plagued minutes of a 122-95 December 26 loss to the Los Angeles Clippers.
In limited minutes, Hield still managed to shoot 44 per cent (4-9) from the field and 50 per cent (2-4) from three. The second-year guard said his approach this season has remained the same whether head coach Dave Joerger places him in the starting lineup or relegates him to the bench.
"It's no different when I get to play, once I get the minutes to prove myself I'm happy," Hield told reporters following the loss to the Spurs.
With an injury to rookie guard De'Aaron Fox expected to keep him sidelined for two weeks, Joerger reinserted Hield into the starting lineup during his most productive month of the season.
"I'm just sticking with it, thanking God for blessing me to come out here to play each and everyday healthy. I know a lot of people wish they can play so when I get a chance to go out there I have to showcase what I've got and the work I put into this point. I have to keep going, going, going whether I shoot the ball bad or not. I worked too hard to get to this point to fail so I'm just trying to go out there and show the hard work I put in and try to get something out of it," Hield added.
"I'm just working hard, sticking with the process, you see young guys around the league get success and you want to have that success too so you compete and that's what competitors do."
In his first seven games of the season, he shot just 35 per cent from the field and 23 per cent from the three-point line while averaging 10.3 points per game.
As a reserve, he averaged 13 points per game in 22 outings.
More like this story