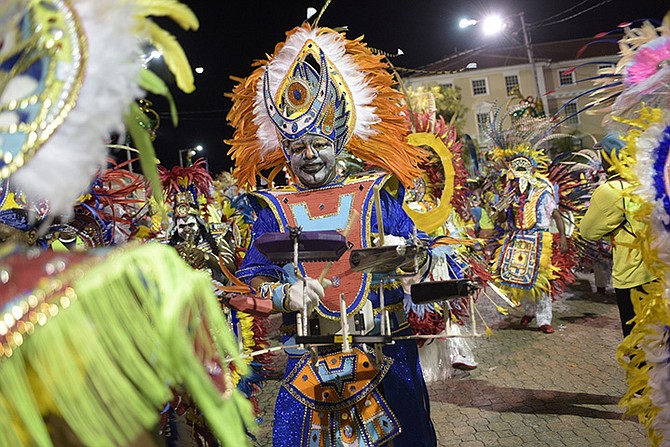 By RASHAD ROLLE
Tribune Staff Reporter
rrolle@tribunemedia.net
ROOTS rushed to its second consecutive Junkanoo parade victory, according to unofficial results released Wednesday, dominating most of the categories in the Boxing Day event with its "Educate Ma Bahamas" theme.
The group received 90.15 points, beating One Family (87.80), the Shell Saxons Superstars (86.92), the Valley Boys (83.47) and Genesis (80.05) in the A group category. The Music Makers group was disqualified.
Roots fans chanted "two straight" and "Roots coming – move out the way" to celebrate their victory and pledged to repeat the performance in next week's New Year's Day event.
The unofficial results were released at Arawak Cay last night where a crowd of spectators gathered to hear the news.
"This one is for all the hard-working people in this group," said Keith Johnson, group leader. "This group did its homework; we executed, we learned from our mistakes. They said we beat ourselves. We made sure (we covered) every base; no cloth, fully pasted, fully fringed, everything they asked for we gave them and this morning belongs to this group."
About the margin of victory, he said: "Our margin was made possible due to the rules of Junkanoo, fringed 75 per cent, we went 100. Everything was immaculate. We lined up on time, we performed and our musicians were awesome. We going for three straight."
He added: "(We won) due to chairman Wendall Francis, the hardest working man in Junkanoo, that fella ain't easy and I would like to thank Atlantis who been with us from day one to now, through the loss, through the victories, this one is for you."
Roots has about 450 members, more than 300 of whom participated in Tuesday's parade, Mr Johnson said.
Controversy erupted earlier this year when Roots was upgraded from fourth to first place in the 2017 New Year's Day Junkanoo Parade event after the Valley Boys had originally been declared the unofficial winner.
The error occurred because officials wrongfully deducted more than six penalty points from Roots.
Anthon Mortimer, chairman of the Junkanoo Corporation of New Providence's (JCNP) Parade Management Team, said organisers were extra careful this time to prevent such a dramatic reversal of results.
"Basically, the official results as normally we have to go through a process," he said. "We will meet the groups tomorrow (Thursday). We will give all the groups our flash drives with all of the different scores and then they will get back to us, if we put them on a 48-hour clock and they would send any type of protest to myself or to the deputy. If no one sends any penalty or infraction then the scores go official. We took the measures and steps to make sure that this time around we were very, very careful in everything that we did as it relates to the unofficial scores."
Roots won seven of the ten categories, including off the shoulder, best lead costume, best choreograph, best overall performance, best Shirley Street performance, best banner and best overall costume.
Genesis won best music while One Family and Saxons won the best free dance and best step-down categories respectively.
Genesis received a penalty of three points while the Saxons was penalised 2.5 points.
In the B division, Colours won with 77.18 points followed by the Original Congos and Fancy Dancers.