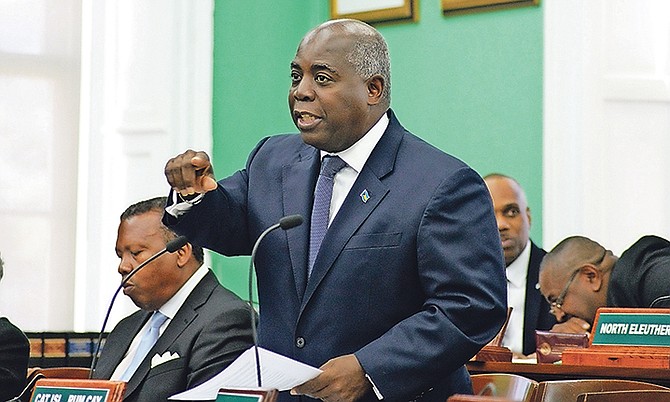 By AVA TURNQUEST
Tribune Chief Reporter
aturnquest@tribunemedia.net
OPPOSITION Leader Philip "Brave" Davis yesterday called on the government to expose the names and provide justification for all contract hires worth more than $100,000 per year.
Mr Davis slammed the Minnis-led administration for what he called "blatant hypocrisy" in its public statements since taking office on May, most notably its intense criticism of contracts for emoluments exceeding $100,000 per year.
He said the admission from Press Secretary Anthony Newbold that the incoming government had hired people above that threshold, further exposed the narrative that earlier condemnation was a "political show".
"They (the Minnis administration) made those contracts seem as if it was a corrupt deal," Mr Davis told The Tribune yesterday.
"They gave an indication that all contracts over $100,000 they were going to cancel, and gave the impression even if they did not say it expressly, that they were not going to award contracts in excess of $100,000.
"Several contracts have been issued in excess of $100,000 and it's not a question of the value you're paying, it's what the job description is worth and the competence and qualifications of who you're hiring. Sometimes you have to pay for talent. The decision to cancel contracts over $100,000 had nothing to do with whether the person or talent was worth the amount - it was always a show for them."
In July, during his national address, Prime Minister Dr Hubert Minnis announced that as part of his government's cost-cutting measures, there would "be no renewal of contracts for emoluments which exceed $100,000 per year."
This, Mr Newbold said in a statement to The Tribune on Wednesday, does not mean the new administration won't hire people above such a threshold.
Mr Newbold explained the government was systematically reviewing human resources needs given the significant number of consultants hired by the former administration. He said contracts would not be renewed unless there was "demonstrated need," and in exceptional cases the government has hired persons at that pay level.
"These are in places where there is a clear need and market rate for the talent is simply at a premium level," Mr Newbold said.
Mr Newbold did not provide requested information on how many people hired on contract by the former Christie administration received emoluments of at least $100,000 and have either since had their contracts terminated or renegotiated.
Yesterday, Mr Davis said: "It was a political show, just mischief to make it appear the PLP was doing something that was scandalous and it just again demonstrates the hypocrisy of this government who truly don't appreciate the worth of an individual or the value of a post in an organisation.
"Here it is this government also talks about transparency. They went to great pains to embarrass persons, disclosing their personal information, and then here it is the same thing they have been complaining of - they themselves are doing.
"But yet fail to disclose these new persons."
Mr Davis said he has submitted questions in Parliament concerning the salary of the new acting financial secretary, the new director of works, as well as the new chief operating officer and chief financial officer at Bahamas Power and Light.
"There are a number of other persons hired," Mr Davis said, "but they should be transparent, they should let us know who are those persons making more and why, and why they felt the need to cancel those other contracts."