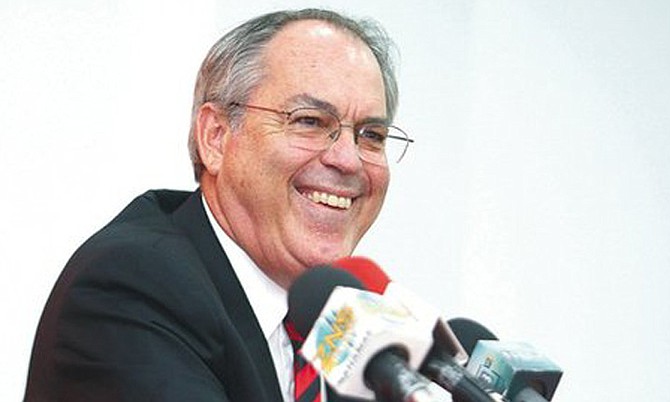 By RASHAD ROLLE
Tribune Staff Reporter
rrolle@tribunemedia.net
FORMER Deputy Prime Minister Brent Symonette said he would have voted for Donald Trump if he was eligible to vote in last year's US presidential election.
"I worked with Mrs Clinton for five years in my previous job and I don't think I could have voted for her," he told members of the Rotary Club of East Nassau on Friday afternoon. "But I'll leave that there … that's a personal, personal decision," he said.
The former Foreign Affairs Minister's comment came during a speech to the club about the effect President Trump is likely to have on the Bahamas.
He concluded that the president's impact is likely to be minimal, with plenty of continuity expected with respect to America's policies involving the Bahamas.
"The relationship between the US and the Bahamas will continue to grow and I don't see much that President Trump can do to change that," he said.
Mr Symonette discussed a list of issues key to the relationship between the two countries and made an assessment about how they could be impacted under the new president.
Among them, he asked: "Will he appoint a US Ambassador to the Bahamas? Well, we haven't had one for five years because the Senate of the United States couldn't confirm the appointee and regrettably she died before she could be appointed. I do believe there has been a choice made by the United States for an ambassador here and hopefully he will be announced shortly and if rumour is true he is already in the process of buying a house in the Bahamas."
As for US agreements with the Bahamas like the Atlantic Undersea Test and Evaluation Center (AUTEC) and Operation Bahamas, Turks and Caicos (OPBAT), Mr Symonette said these are unlikely to be cancelled.
"Will Trump say for instance cancel the US agreement with AUTEC," he asked. "No, they just signed the agreement the other day and paid some $11m per year for the rights for the underwater evaluation and testing for the center in Andros."
"Will they cancel OPBAT? OPBAT is a strategic operation here in the Bahamas which protects the borders of the United States which allows law enforcement officers in the Turks and Caicos Islands, the Bahamas and America to patrol our borders and many of you have heard of operations where they encounter illegal immigrants, drugs and also operations where they've actually rescued people. So I doubt very much that will be cancelled by President Trump."
"Will they not build an embassy? They required land on Shirley Street to build an embassy so therefore that motion is going ahead. Maybe the funding for that will be delayed depending on the administration's desire for use of those funds anywhere in the world."
Mr Symonette also said President Trump is unlikely to disrupt the status quo within the financial sector.
"Will President Trump change any of the rules related to the financial sector?" he asked. "I doubt it because he doesn't make them. Most of these regulations are made by international organisations like OECD, which are made up of many countries that all have their own agenda."
Mr Symonette concluded that Bahamians will have more impact on the country's relationship with the US than any policy President Trump supports or implements.
"If we continue with crime and other issues like that we will be blacklisted again and again and again," he said.
Mr Symonette's speech came against the backdrop of political interest in whether he will run for Parliament in the St Anne's constituency in the general election.
He remained unwilling yesterday to say what he will do, despite repeated references to his consideration and encouragement from some Rotary Club members.
Taking to the podium, his first words were: "I'm wearing a red tie today by way of appeal to Trump, not to party."