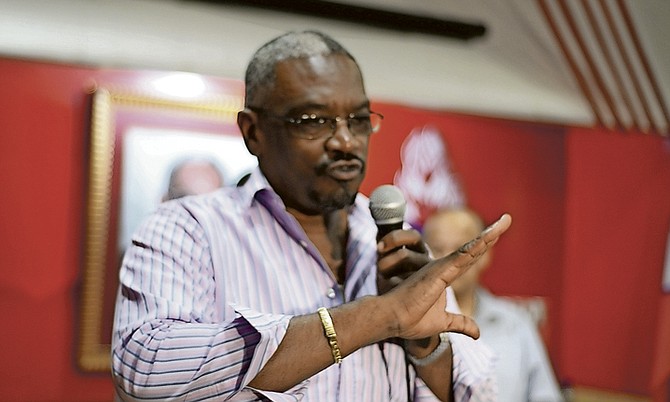 By RASHAD ROLLE
Tribune Staff Reporter
rrolle@tribunemedia.net
FREE National Movement Leader Dr Hubert Minnis took a swipe at his party's former Deputy Leader Loretta-Butler Turner last night, telling supporters at a rally in Long Island that the constituency "doesn't belong to her".
Last night's rally was held to introduce attorney Adrian Gibson as the party's candidate for that constituency. During his speech, Dr Minnis also ratcheted up attacks against Prime Minister Perry Christie, calling him the most "disorganised prime minister in the history of The Bahamas".
The rally in Long Island comes weeks after the FNM rescinded its ratification of Mrs Butler-Turner, the island's current MP.
Dr Minnis referred to the Official Opposition leader during his speech yesterday, saying: "I want to thank Loretta Butler-Turner for her service in Long Island. I wish her well in her future endeavours, but she must know that Long Island doesn't belong to her."
He spent much of his speech imploring voters to keep their support in the FNM, portraying the Progressive Liberal Party as a group that has done little for the island.
"He (Mr Christie) simply cannot be trusted to uphold our Constitution," Dr Minnis said. "And he cannot be trusted with the business of government. I am an organiser and a doer. Perry Christie is a talker, a shuffler and daydreamer. And he can't stop talking even when he's dreaming. Unlike me, Christie is a career politician. He has been running late his entire public life. For 40 years he has been late, again and again.
"You know Emperor Christie did not have very nice things to say about me last week," he said, referring to Mr Christie's comments calling him a "minor player".
"He tried to make me look small. And I will say about that is: small axe cut down big tree! David is getting ready to slay the man who thinks he's Goliath. He must think that only some women in the Bahamas can born prime ministers. I have news for him: any child in the Bahamas can aspire to leading our Bahamas or offer for public service."
Dr Minnis dismissed the various political parties and associations seeking to make an impact on the upcoming election, saying the contest is "between the FNM and PLP."
"Don't mind the noise from other places. Our message is clear: If you sick and tired of the PLP, if you scared of five more years of the same arrogance and corruption, there is only one alternative to the PLP. That alternative is the FNM."
Regarding the FNM's agenda for Long Island, Dr Minnis said the party would build a new international airport and protect the country's waters from poachers.
"Unlike the PLP, we don't want foreigners stealing our fish," he said, although government and Royal Bahamas Defence Force officials say poaching has been on the decline since the government's acquisition of new vessels.
"You can't trust the PLP with your land or your fish," Dr Minnis said.
His comments may have been a reference to a report last year that the Ministry of Agriculture had given the Bahamas ambassador to China the green light to have discussions on a potential agricultural and fisheries partnership in Andros. After significant public backlash to the proposal, Mr Christie said such a deal would not occur.
"They are very 'grabalicious' group, the PLP. They keep taking and taking for them and theirs," Dr Minnis said.
Dr Minnis also promised to bring potable water to areas of the island that are struggling with supply.
He also said: "We will modernise your healthcare facilities, which will be properly staffed and supplied. We will ensure that there is an ambulance in the south and in the north.
The FNM will seek to expand business ownership and job-creation.
" . . . We will discuss with local government officials, the private sector and others the creation of some type of adventure travel and heritage tourism centre near Dean's Blue Hole.
"The centre might have an educational component about blue holes, a gift shop and small eatery."
He said the party would ensure the extension of cable television further north in the island, improve roads and infrastructure in government offices and provide adequate staffing in terms of police and teachers.