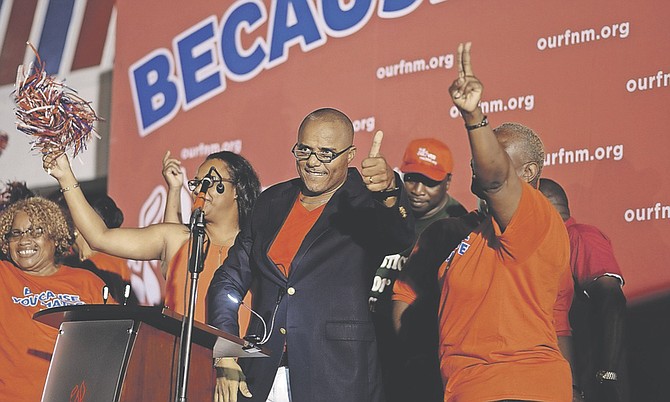 By KHRISNA VIRGIL
Deputy Chief Reporter
kvirgil@tribunemedia.net
FORMER Deputy Police Commissioner Marvin Dames said he is not impressed by National Security Minister Dr Bernard Nottage's announcement of the anti-crime measures to be adopted by the government to combat the spike in murders, saying the strategies have raised more questions than answers.
In response to a spate of murders – eight since last Friday - Dr Nottage on Wednesday said with immediate effect "lockdowns" in certain areas, mobile police vans and an armed forces partnership among other things would be implemented.
He further admitted that people connected to "gangs, drugs and guns" are linked to the frequent killings.
However, Mr Dames, who has been ratified as a Free National Movement 2017 election candidate, said the initiatives have come at the last minute when the Progressive Liberal Party led government's time in office is coming to an end.
"At the beginning of this administration, Prime Minister Perry Christie himself said crime will be the determining factor as to whether they are returned to office," the former deputy commissioner said.
"Five years into this administration and at the very end at that, they are just revealing their strategy as to how they intend to deal with crime and to take it a step further, this strategy, which was articulated leaves more questions than answers.
"You say you are going to roll out a Royal Bahamas Defence Force partnership with the police. Well, how will that take place? You are talking about two organisations now working together on the streets. What would be the role of the RBDF? When you have situations like this it requires training to ensure that when they roll out the strategy you don't have issues on the street. It's so confusing. How will they work in unity?"
He went on: "They talk about the introduction of two vans. I was involved in the acquisition of those vans more than six years ago. These are the two vans they are speaking about and one of the reasons why those vans were purchased was for the exact same thing. To be utilised in areas where you are having crime at the frequency we are having today. So where have they been and how have they been utilised all this time?"
He also questioned why the government's closed circuit television network was not being manned 24 hours a day, considering the hefty government investment into the initiative.
"They talk about this whole thing about the CCTV cameras," Mr Dames said. "We've spent millions on those cameras and now we are learning from the minister in Parliament that they are not being monitored on a 24/7 basis. Then how were they being monitored? Who actually is carrying out the monitoring? Because if you are investing so much of the taxpayers money on a programme, at the end of the day we must see that the programme is actually being utilised.
"We talk about the ankle bracelets. Ankle bracelets are not used and utilised for hardened criminals. You could put a hardened criminal in an ankle bracelet and he can sit on his porch and he can wreak havoc sitting on his porch on his cell phone, calling armed robberies, shootings and anything else. "We are not utilising these equipment and resources that we are purchasing."
On Wednesday Dr Nottage also said intelligence has suggested that there are connections between many violent incidents on the streets of New Providence and inmates at the Bahamas Department of Correctional Services and recently released prisoners.
He announced nearly a dozen measures to combat crime. Among these were increased foot patrols in inner cities and crime hot spots; the activation and placement of specially designed mobile police vans to serve as manned police stations in communities where crime is a challenge for police; aggressive stop and search of suspicious persons and suspicious vehicles throughout all policing divisions; periodic road checks at various intersections; purposeful lock downs of communities and crime hot spots where large teams of law enforcement officers execute search warrants, arrest warrants and search for illegal drugs, firearms and stolen vehicles.
Several other medium-term strategies are also being implemented, Dr Nottage said.