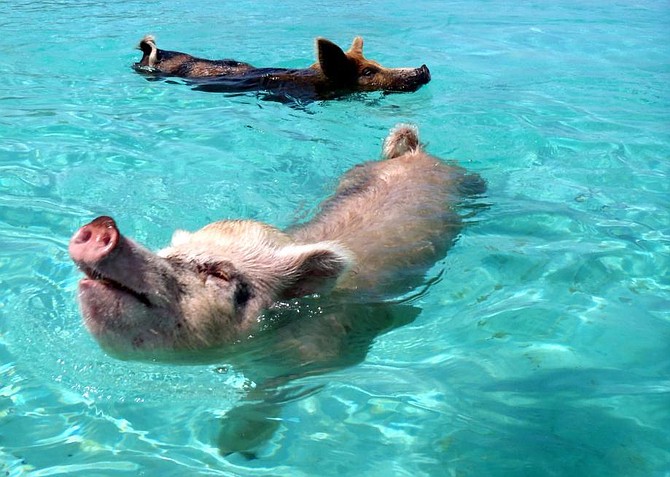 By SANCHESKA DORSETT
Tribune Staff Reporter
sdorsett@tribunemedia.net
BAHAMAS Humane Society President Kim Aranha yesterday questioned why the results of autopsies performed on the seven swimming pigs that died in the Exumas have not yet been released to the public.
Mrs Aranha told The Tribune that the longer the cause of death is kept a "secret" the more people will speculate that something nefarious was done to the animals.
More than a half a dozen of the swimming pigs were found dead under mysterious circumstances more than a week ago.
The majority of the pigs, believed to be around 15, are still alive. According to reports in a local daily, the owners of the pigs believe the animals died after being fed "rum, beer and the wrong food."
Officials have yet to reveal the actual cause of death.
"To me, keeping it a secret is worse. I can't think of any scenario why they would not come out and tell us," Mrs Aranha said.
"I find in life when people refuse to talk and refuse to answer your questions you end up thinking the worst. Whenever someone hides something it is human nature to suspect it is a negative reason.
"I am prepared to believe that there is a good explanation for this and I would love to have it. I don't understand why people aren't being upfront with this, my personal feeling is that it wasn't nefarious, I have a feeling that they were fed the wrong food because to me if it had been intentional they would all be dead.
"These were farm animals, if someone was going to get rid of them wouldn't they have butchered them? None of it makes sense, I have a feeling it was a terrible accident."
Last week, Minister of Agriculture and Marine Resources, V Alfred Gray told The Nassau Guardian that as a result of the deaths, visitors will no longer be permitted to feed the pigs, though they will still be able to visit them.
Mrs Aranha said: "This is not a very good idea."
"The idea of putting a net around them is insanity. They should sell food to the tourists like around $5. That way the tourists can get the fun out of feeding the pigs and the pigs can still be safe. To me that is a no brainier, why would you prevent the tourists from going up to them?
"That is why people go there, the tourists will leave if they can't interact with the pigs."
The Tribune has attempted to contact the Ministry of Agriculture for several days but calls were not returned up to press time.