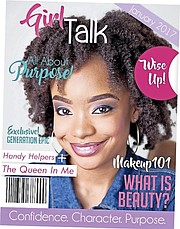 By JEFFARAH GIBSON
Tribune Features Writer
jgibson@tribunemedia.net 
WHEN 14-year-old Ci'Ashadai Cash first came up with the idea to launch her Girl Talk magazine, she was scared of sharing her vision with others. However, the teen knew that if it were not realised, the movement she was hoping to inspire in young Bahamian girls would never come to pass.
So instead of shying away from the daunting task, the 10th grade Leadership Academy student put her fears aside and began making plans for the magazine.
Officially launched in January, Girl Talk focuses on inspiring confidence, encouraging purpose in teens and highlighting organisations that make a change. 
The Girl Talk digital magazine features the activities and initiatives of teens all around the islands, advice, and entertaining and purposeful articles. 
Girl Talk magazine is released every other month. Ci'Ashadai Cash said she hopes to eventually have hard copies of the magazine distributed to various schools.  The next issue will be released sometime in March.
"I came up with Girl Talk magazine I was very scared to come public with it, but then I thought about how many other teenagers would be affected, how many of them didn't have the support that I have. In every situation there is always a bright side," she said.
"My aspirations include giving back to my community, making a difference in the world and ensuring that I leave my mark in the lives of many teenage girls."
She hopes the Girl Talk magazine inspires a movement all about building confidence, character and purpose. She also seeks to establish a sisterhood among girls that will love, support and build one another up. So far, the Girl Talk participants meet once a month.
"It is our aim to change lives all over the world; to give back to our community and leave a huge impact. We want to help teens all around the world accomplish their goals, find their purpose and know themselves. We want to build up (girls) that will bring change to the islands of the Bahamas through their various gifts; living life through purpose," she said.
"Girl Talk is important to me because at one point in my life I didn't know what I wanted to do. I didn't know anything about my purpose. But God showed me that He had a plan for my life and He give me a support system to help me achieve my goals. I feel as though it is important for every teenage girl to have a support system, confidence and a mindset to know they can bring change. It is also important that (girls) know their worth and never let anyone take advantage of them or their goals. This movement is important to me because I get to journey with other young ladies as they discover and walk in purpose."
Ci'Ashadai said she wants the movement to impact girls of all ages.
"When we were placed on earth we were placed here for a reason. We weren't placed here to take up space, but to bring change and affect the life of someone else. As teenagers I don't feel like we should hide our ideas," she said. "Personally, I've never seen a teen start something and it not grow. With the right amount of nourishment and care I believe any teen can accomplish anything they put their mind to. You never know whose life you're going to affect or whose day you're going to make. Be bold, be confident, walk in purpose."
Girl Talk magazine can be found on Issuu.com/GirlTalkBahamas.