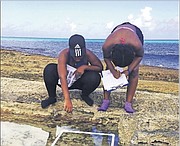 By JEFFARAH GIBSON
Tribune Features Writer
jgibson@tribunemedia.net 
AN international grant awarded to the Young Marine Explorers (YME) will help the organisation expand its reach through a study that aims to explore the damage dealt to marine life and resources after the devastation of Hurricane Matthew. 
YME is a Bahamian marine conservation organisation based in New Providence that promotes health for all through a healthy environment. The organisation is working with Coastal Ecology Lab at the University of Miami to document the impacts of Hurricane Matthew on coastal and marine resources. 
The Waitt Foundation, an international organisation with the mission to protect and restore ocean health, is funding a six-month project, where YME students will study the impact that Hurricane Matthew has had on the shorelines and coral reefs of New Providence. 
According to a press statement by the organisation, the project sets the foundation for future studies in Exuma, Grand Bahama and North Andros – the islands that experienced the greatest of impact from the storm. 
During the project, YME teams will look at the loss of natural capital – for example, fish populations, spiny lobster, and mangroves that protect the coasts – from hurricane waves and winds to determine what the potential long-term changes might be to mangroves, beaches and coral reefs.  
The initiative will have four components. First, YME will work with students to document hurricane impacts in their neighbourhoods, and encourage students to share their hurricane experiences across islands. 
Students will work with mentors to carry out coastal assessments in key locations around the country to document coastal erosion, loss of vegetation, flooding and destruction of homes and buildings. Students will also learn about water quality and land-based sources of pollution to coastal water. Then they will learn about mapping hurricane impacts along the coast and in the water.
YME founder and CEO Nikita Shiel-Rolle said the storm's passing prompted her to take the youth programme in a new direction.   
"This hurricane has changed everything. We will be talking about the before and after of this storm for decades to come.  This storm will change not only how we live on the island, but will increase our need to understand what changes have occurred just off our shores," she said.  
"This will be the first study of its kind in the Bahamas to actively engage high school students in applied conservation science that will document the natural resource cost of a major storm event."
The YME has been offering marine conservation programmes for the past 10 years but has redesigned this year's curriculum to enable students to work alongside conservation biologist Mrs Shiel-Rolle and coastal ecology professor Kathleen Sullivan-Sealey.
Mrs Shiel-Rolle said the shift in the programme's curriculum is a necessary one. 
"I believe as Bahamians we need to be proactive if we are to ensure that we are prepared for future natural disasters, which could also have major effects on our coastal and marine environments. I am very happy that YME has the ability to mobilise and engage so many youth in a research project that will positively influence our response to hurricanes in the future."  
The project will lay the foundation for a long-term monitoring programme managed by YME. The data collected by YME members will "produce valuable information that can be used by both governmental and non-governmental agencies."
The YME curriculum engages students in marine leadership education classes hosted after school and on Saturdays.
• For more information about YME, visit www.ymebahamas.org.