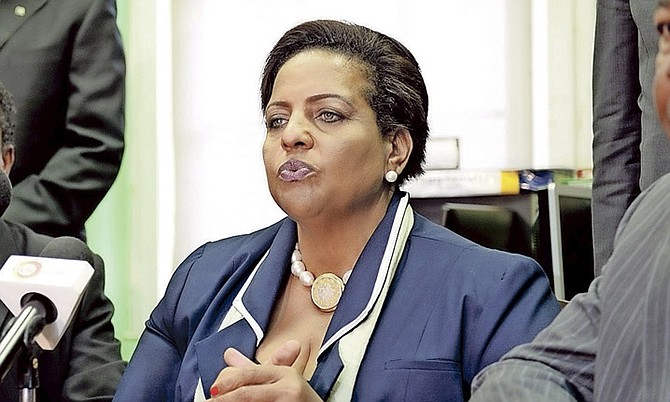 By AVA TURNQUEST
Tribune Chief Reporter
aturnquest@tribunemedia.net
LONG Island MP Loretta Butler-Turner yesterday criticised her party for its decision to revoke her nomination and ratify another candidate without due process, firmly stating her intentions to contest her seat in the upcoming general election.
However, Mrs Butler-Turner strongly pushed back against speculation that sought to infer that a statement from her to party officials, which was leaked over the weekend and circulated online, amounted to a resignation from the Free National Movement (FNM).
"As an incumbent MP whose ratification has been revoked and subsequently a new candidate named without due process as articulated in the FNM constitution, the FNM has created a bogus or illegal position," she explained in an email to The Tribune.
"In effect they have undermined and circumvented the constitutional process in an attempt to prevent me running as an FNM. My response, as you will note, is in no way a resignation from the FNM, but rather a statement demonstrating that l will not be subjected to a leadership or a party that disregards and corrupts the rule of law to achieve personal objectives."
Mrs Butler-Turner was responding to questions placed by The Tribune after a letter purportedly written by her, was circulated on social media.
Confirming the letter, the Long Island MP explained that she was prompted to issue a response to the notice of a special meeting on Wednesday.
"I didn't think I needed to go to the meeting since they already went ahead and did what they did," she told The Tribune in an interview earlier Sunday.
"Because what they have done (is) constitutionally illegal, they have infringed the FNM constitution," she alleged.
Mrs Butler-Turner stressed that she didn't leave the FNM, "they left me".
"I am an incumbent," she said, "my ratification has been revoked and they have subsequently named a new candidate in my seat. I have every intention of running in my seat, and since they've taken that route it means essentially that they have disengaged themselves from me.
"I was the only one of the seven (dissenting FNM MPs) that had a ratification from the party, and they subsequently named someone in my seat.
"In order to keep going, I obviously can't run under the FNM party so I didn't leave them, they left me."
The Long Island MP along with the six other "rebel" MPs face expulsion, suspension or a fine from the party following their decision to oust FNM Leader Dr Hubert Minnis as leader of the Official Opposition in Parliament, and replace him with Mrs Butler-Turner.
Her candidacy was revoked by the party before the outcome of that disciplinary process.
The letter penned by Mrs Butler-Turner read: "The actions undertaken by yourselves and the council, combined with the public pronouncements by the leadership of the party clearly demonstrate your intent to sever my legal affiliation with the FNM; the party that l voluntarily supported and joined over 30 years ago.
"Be assured that l do not enjoy, neither do l embrace this posture," the letter continued, "but l will not pursue or fight the illegitimacy of this premise, as I have previously stated in my response letter to the secretary general on December 15, 2016. The ideals and philosophy of the FNM's existence are aligned with my personal convictions...democracy, accountability, fairness and transparency.
"I unreservedly espouse these tenets of my party," the letter read.
"For these reasons, despite the divergent path we now face, l accept your majority will without opposition. I sincerely, thank you all for your past support and comaraderie. The battles and causes we have fought together will always be held proudly in my heart. May God bless you all."