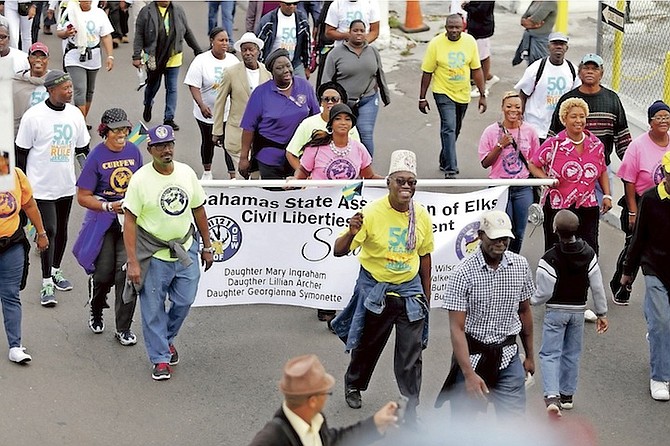 By DENISE MAYCOCK
Tribune Freeport Reporter
dmaycock@tribunemedia.net
SOME Grand Bahama residents travelled to New Providence to march and celebrate the Golden Jubilee 50th anniversary celebrations of Majority Rule Day.
Under the theme, 'Retracing the Steps of History', marchers walked the same route that the country's forefathers did on January 10, 1967 when Majority Rule was attained for the first time.
Melissa Forbes, of Grand Bahama, said that it was an overwhelming experience to have retraced the steps of the forefathers, like Sir Lynden Pindling and many others who were instrumental in bringing about Majority Rule. Freeport resident Ginger Moxey was also seen at the march.
"I felt proud as a Bahamian to participate, marching the same route that the forefathers did back in 1967," Mrs Forbes said. "It was a bit overwhelming just walking through the City of Nassau and seeing all the large paintings in Rawson Square of those persons who made an impact in the country.
"It gives you an appreciation for the freedoms that we enjoy today. Going over and participating was such a momentous occasion to reflect on what our forefathers fought for."
She admires Sir Lynden, the country's first prime minister, for his role in Majority Rule.
"He was the father of the nation, he was a visionary, and a great leader; he also had his flaws like many leaders, but I think the country's history is deeply rooted in his leadership and if it was not for him we would not be where we are today. I think for the most part he was very instrumental in the social revolution and progress of this country," she said.
Mrs Forbes also noted that Maurice Moore, considered one of the Free National Movement's founding fathers, was also among those instrumental in bringing about Majority Rule.
When contacted, Mr Moore, a resident of Grand Bahama, said that he was indeed happy to have been a part of history.
"I consider Majority Rule significant achievement and I am very pleased that government has made it a national holiday," he said. "I am very happy that I was alive and part of that history making election."
Mr Moore felt that while progress has been made since 1967, there are many more things that could have been done after 50 years of Majority Rule.
"I am pleased with the progress we made, but one of the things that bothers me most of all is the level of disrespect the employers for the country have for workers," he said.
"Workers are the movers and shakers of your country, of your development and progress, and I am very to disheartened to see and hear the disrespect employers have for their workers.
"I am surprised at the political directorate as well. I was in the movement that brought about Majority Rule, and the movement was undergirded by trade union and the workers," he explained.
"I don't think workers and trade unions are given recognition they should be given on the day in which we celebrate Majority Rule Day," he said.
"Here we are 50 years down the road and…certain things ought to have been done for the workers of our country. I cannot say I am satisfied with that - that is my only complaint," he said.
Mr Moore said that the country has come a long way in terms of institutional development. He stated that the development of the Royal Bahamas Defence Force, partial development in area of trade unions, National Insurance and the move toward National Health Insurance, are great achievements.
Meanwhile, Mrs Forbes felt that Dr Hubert Minnis, the leader of the FNM, should have participated in the march.
"This day is not only significant for the PLP, but for all Bahamians. Majority Rule was ushered in under the PLP's leadership, but we had a lot of persons who were instrumental like Maurice Moore. We have persons on both sides of the political divide who were instrumental in bringing our country to where it is," she said.
There have been previous Majority Rule marches in Grand Bahama. This year the march was not held for the 50th milestone, and persons from the Family Islands were invited to the jubilee celebration in Nassau.