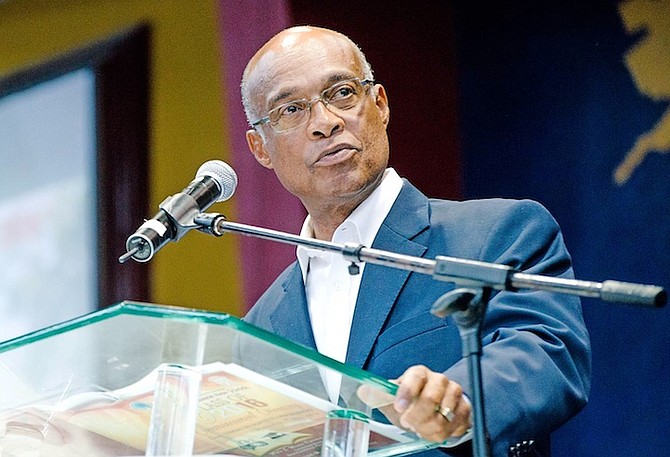 By RICARDO WELLS
Tribune Staff Reporter
rwells@tribunemedia.net
FORMER Baha Mar Leadership Development Institute Executive Director Jeffery Lloyd yesterday called reports that an estimated 1,500 people applied for or inquired about jobs at the once stalled Cable Beach resort on the first day of the process "alarming" and "significantly low".
Mr Lloyd, the Free National Movement's South Beach candidate, said the pairing of the $3.5bn project's past failures and the Christie administration's extensive involvement with the resort's recovery has deterred potential applicants.
On Monday, Robert Sands, Baha Mar's senior vice-president of government and external affairs, told The Tribune that the company's website careers.bahamar.com and "social media and Facebook" saw over 1,000 applications and over 500 inquiries respectively as of 4.30pm that day. By yesterday, Mr Sands told Tribune Business nearly 4,500 applications had been received, a response he described as "overwhelming and extremely encouraging".
The first day's level of applications surprised many involved with the project, with Mr Lloyd commenting that the current status of Baha Mar leads many to believe that the resort will not succeed.
Comparing the numbers reported by Mr Sands to the initial launch of the LDI project in 2013, Baha Mar's initial hiring phase, Mr Lloyd said his team was bombarded with far more applicants when they promoted far fewer jobs.
"Their returns on their actions this week is significantly low compared to what was done in 2013," said Mr Lloyd. "When we were advertising 150 positions there were over 5,000 people who responded - the return was massive. We went into communities and thousands showed up to seek employment opportunities."
Mr Lloyd remarked that the "less than significant response" illustrates that Bahamians, particularly youth are "disgusted, disappointed and distrust everything the PLP are involved with".
"I don't need to guess with this," Mr Lloyd added. "A project of this magnitude should captivate everyone. In a country where the unemployment rate is where it is at, you're telling me that those persons without jobs aren't pushing to get these new jobs?
"No one is convinced with this project. People don't believe that it will open successfully and be safely contracted in the 13-week window proposed. No one wants to go near this because the government has jilted everyone once intrigued by it."
Last month, Prime Minister Perry Christie said Chow Tai Fook Enterprises (CTFE), the new owners of Baha Mar, were working on a phased opening for the second quarter of 2017.
"The hirings are to facilitate the phased opening of 1,800 rooms at the conference and casino hotel, the casino, convention centre and golf course, and employment of up to 3,300 by August 2017, and 4,300 by December 2017, when all companies have been completed and opening," the prime minister said.
CTFE will invest $200m in "pre-opening festivities, development of family amenities, entertainment and offshore island facilities and demolition and redevelopment of the former Crystal Palace Hotel," Mr Christie said.
Resort officials are "very optimistic" that the resort will hit its April 21 "soft" opening date.