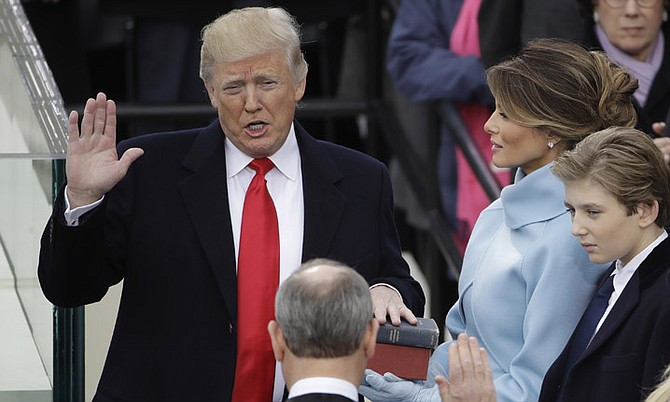 By NICO SCAVELLA
Tribune Staff Reporter
nscavella@tribunemedia.net
WOMEN from two Family Islands yesterday declared their support of the international Women's March on Washington in hopes that their support will send a "strong and clear message" that the rights, health and safety of women and others throughout the world are respected.
Women situated in Freeport, Grand Bahama, as well as Long Island, both informed The Tribune yesterday of their plans to march in solidarity with the Women's March on Washington movement to raise greater awareness and acknowledgement of women's rights, human rights and equality.
The Women's March on Washington is a global protest to be held on January 21, the day after the inauguration of US President-elect Donald Trump, largely in response to the rhetoric of the past US election cycle, which march organisers said "insulted, demonised and threatened" many in US society, particularly women.
According to the march's website, www.womensmarch.com, there are 616 marches scheduled to be held in the US and around the world in solidarity with the Women's March on Washington, with an estimated 1,364,010 marchers expected to participate.
Lynette McInnes, organiser and spokesperson for the "Women's March on Grand" in Grand Bahama, said Freeport are proud to be one of the 600 plus cities around the world standing in solidarity with the global grassroots movement.
"On January 21, people from the United States and around the world will march for justice, freedom, human rights and equality," Ms McInnes said.
"As founder of Grand Bahama's largest international women's day event, 'Join Me on The Bridge', the Women's March campaign and its focus on women's rights and equality syncs well with our community.

"The Bahamas' interest and engagement in women-focused events has grown greatly over the years, so it's no surprise that women in Grand Bahama are eager to be heard and to take part in this important sister event."
According to march organisers, the Women's March on Washington movement aims to send a "bold message" to all levels of government, which includes, but is not limited, to the incoming Trump administration, that those in support of the movement do so "in solidarity and we expect elected leaders to act to protect the rights of women, their families and their communities."
March organisers have stressed that the event is not just a protest against President-elect Trump, but is "much more about being proactive about women's rights" and more so, "a stand on social justice and human rights issues ranging from race, ethnicity, gender, religion, immigration and healthcare."
The main march is scheduled to take place on Saturday at 10am at the intersection of Independence Avenue and Third Street SW, near the US Capitol in Washington, DC. However, hundreds of other marches are scheduled to take place in various cities and locales throughout North America, Central and South America, the Caribbean, Africa, the United Kingdom, and Japan, to name a few.
"We're excited that women across the nation and the world are organising to stand together in solidarity," Bob Bland, a co-chair of Women's March on Washington has said, according to international report. "Our unity will send a strong and clear message that women and our allies will protect our rights, our health, our safety and our communities. These sister marches show a powerful and inclusive movement, which is just as crucial as the thousands who will travel to DC."