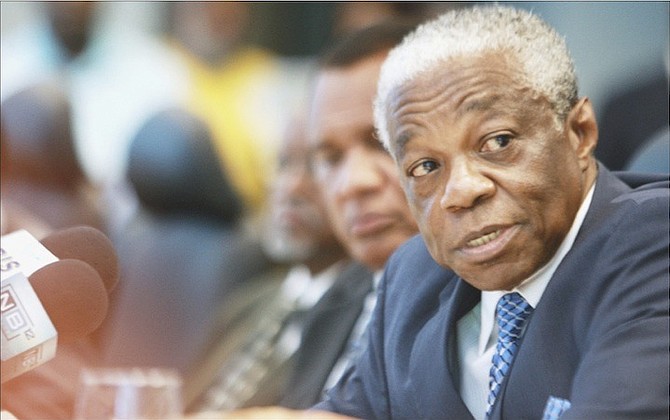 By KHRISNA VIRGIL
Deputy Chief Reporter
kvirgil@tribunemedia.net
DESPITE a cumulative murder count in this term that has surpassed the previous Ingraham administration's, National Security Minister Dr Bernard Nottage said under the Christie administration the country was made safer for Bahamians.
While not focusing specifically on homicides since May 2012 when the Progressive Liberal Party took office, Dr Nottage touted the decrease in major crimes since 2011.
That year, there were 12,140 major crimes, he said. This decreased in 2016 to 6,245, the Bain and Grants Town MP said during the final night of the Progressive Liberal Party's (PLP) national convention.
According to The Tribune's records, there have been more than 580 homicides in the Bahamas since May 2012. While the PLP was in opposition, the party posted billboards around New Providence which read that there had been more than 490 murders under the last Ingraham administration.
Dr Nottage also used his time on the stage to send a warning to gang members that the government will not rest until either they are all reformed or brought to justice. He said the government believed that most of the major crimes occurring in the country were isolated, while hinting that the government had plans to expand school policing.
In this regard, Dr Nottage took a swipe at the Free National Movement's Mount Moriah candidate, former Deputy Commissioner of Police Marvin Dames, who suggested that the government place metal detectors in schools after students were stabbed in a brawl at Government High School last week.
Dr Nottage said this had been tried before with little positive effect. Dr Nottage went on to reveal the government's plans for the $20m loan from the Inter-American Development Bank. The Christie administration acquired this loan early last year.
He said the government expects to spend $4.8m on social crime and violence prevention, $4m on youth employability and employment training, $5.6m on strengthening the justice administration and $3.2m to rehabilitate and reintegrate offenders.
In response, FNM Chairman Sidney Collie slammed Dr Nottage for "talking up" the government's crime accomplishments. This, he said, was astounding.
"To see the PLP – after years of inept leadership as violence took hold of our communities – talk up their crime accomplishments is astounding. The PLP has all but ignored sound ideas and plans to strike at the heart of the growing crime epidemic and then turned a blind eye as the murder rate hit record highs year after year," Mr Collie said in a press statement.
"Not only did they ignore our people's cries for help they ignored repeated international warnings and dismissed other countries when they issued travel warnings to their citizens. They have had years to do something, and they have done nothing. And now our people are suffering the tragic consequences of their ineptitude."
He continued: "So it comes as a shock to us all when the tone-deaf Minister Nottage declared that this PLP government is the best to combat crime. How can that be? Under their watch sexual assaults are all too frequent, the murder rate has hit dubious records, and we have seen crime infiltrate our schools and more and more people live in fear. The PLP proves that you can't fix a problem when you choose to ignore it.
"The PLP's convention offers up their typical platitudes and their bizarre view of our country. But they cannot deny the feelings of the people they should be serving and protecting."
Earlier this month, police reported a 24 per cent drop in murders, falling from a record 146 in 2015 to 111 in 2016, according to police statistics. He also said that overall serious crime dropped 26 per cent compared to 2015.
The murder total last year was the lowest since 2012, though it continued to conform with the concerning high murder rate trend that began within the last decade.
The RBPF's record of murders in 2016 differs from The Tribune's total of 114. However Commissioner Greenslade said some matters had been reclassified.