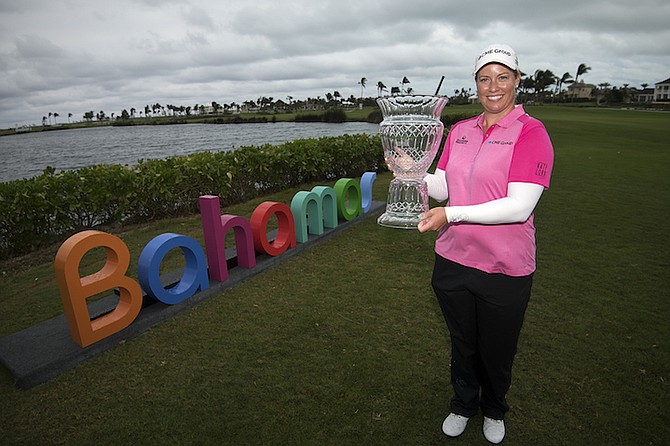 BRITTANY Lincicome, who had struggled in playoffs throughout her career, birdied the first extra hole on Sunday at the Ocean Club Golf Course, Paradise Island, and defeated fellow American Lexi Thompson to win the $1.4 million Pure Silk-Bahamas LPGA Classic.
Lincicome two-putted from 20 feet at the par-five 18th and then watched as Thompson missed a birdie try from 12 feet. It was Lincicome's seventh LPGA victory and she won for the third time in 11 career playoffs. Thompson, who held a share of the 54-hole lead with Stacy Lewis, lost in her first playoff appearance.
The win was worth $210,000 and 500 CME Globe points for Lincicome, whose last victory was the 2015 ANA Inspiration. Lincicome emerged from a four-player battle with fellow Americans Thompson, Lewis and Gerina Piller, each of whom had at least a share of the lead at one point on the final day.
"It was pretty incredible," said Lincicome, 31, who had gone 44 starts since her last victory. "Just the leaderboard all week has been amazing. Obviously, a lot of Americans up at the top, friends of mine, so to come down to the final stretch, I played with Lexi yesterday, and it was an awesome day. We had so much fun, and to obviously have the playoff today is a bummer, but it's just incredible.

"This feels so great, because it's been such a long time since I won. I was wondering when I would win again," Lincicome added.
Lincicome, who trailed by two entering the final round after holding the first- and second-round lead, closed with a five-under 68 at the Ocean Club to finish at 26-under 266, a tournament record, and one stroke shy of the LPGA record in relation to par. She birdied the reachable 18th hole in regulation for the clubhouse lead, and the long-hitting Thompson only managed a par as rain and high winds whipped up in the final hour after three days of calm conditions.
"I played well all week, and my putter definitely saved me, and I made a lot of birdies out there, just a lot of positives to take from the week," Thompson said. "Brittany played amazing, amongst a lot of other players out there and it just got tough out there today, especially with three or four holes to go. That's the hard stretch."
Thompson closed with a 70. Lewis, who was runner-up a year ago at the Ocean Club, was one stroke back, undone by a triple bogey at the 14th hole.
Lewis, whose last victory came at the 2014 Walmart NW Arkansas Championship presented by P&G, was still tied for a share of the lead until her travails at the 14th. Her second shot cannoned off a palm tree and the cart path into shrubs, and in her attempt to escape, her next bounced off the kerb of the cart path into high grass. After a penalty drop for an unplayable lie, her approach ended up short of the green and she got up and down for a seven.
"There's not much really I could have done better other than hit a better shot from the second shot," Lewis, who birdied two of her last five holes for a 71, said of her struggles at the 14th. "Other than that, I was telling Travis [Wilson, her caddie], we made 30 something birdies this week and playing some good golf, so I'm pretty happy with it."
After a slow start, defending champion Hyo Joo Kim was 16 under over her last 54 holes and ended up tied for ninth at 274.