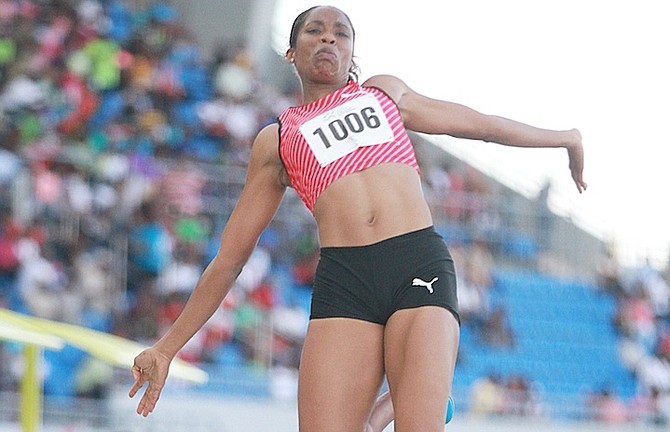 By BRENT STUBBS
Senior Sports Reporter
bstubbs@tribunemedia.net
NATIONAL long jump record holder Bianca 'BB" Stuart was one of six persons inducted in the Saluki Hall of Fame during a ceremony at the Southern Il- linois University's Arena in Carbondale, Illinois on Friday night.
The 28-year-old two-time Olympian joined Gwen Berry, a thrower who competed with her; Hubie Dunn (Gymnastics), Jason Frasor (Baseball), Alexis Moreland (Football) and Ray Tabacchi (Baseball) as they each took their place among the all-time great athletes at SIU.
During her tenure from 2006-09, Stuart was a seven-time MVC long jump champion (four indoor, three outdoor) and is the only four-time conference champion in the long jump in league history.
Stuart was a two-time All-American, placing seventh at the 2008 outdoors and fourth at the 2009 indoors. She still holds the school and MVC record in both the indoor and outdoor long jump, and was a key figure in two MVC team titles for the women in 2009 (indoor and outdoor).
Stuart lives and trains in Auburn, Alabama, and represented The Bahamas at the Olympic Games in 2012 (placed 17th) and 2016 (placed 16th). She claimed a silver medal in the long jump at the 2015 Pan American Games and won two Central American and Caribbean (CAC) Championships.
"I'm overwhelmed with emotions," Stuart said. "This is a very exciting experience. I never thought I would be inducted into the Hall of Fame. It was unexpected. It's a great honour and a privilege. (Coming to SIU) helped to build my skills and help prepare me for the higher elite competition."
She was accompanied by her parents, Althea and Sherwin Stuart, her brother Nyles Stuart, a former long and triple jumper who also graduated from SIU; grandmother Ivy Gibson from Clearwater, Florida and other relatives and friends.
"I was elated to be inducted into SIU's 2017 Hall of Fame Class," she said. "It was a great honour to receive such a prestigious award."
Her father, Sherwin Stuart, said it was a great honour for his daughter.
"I am happy that the university saw fit to honour her in such a distinguished way. I was not expecting it although she deserves it," he stated. "When I think of an award of this nature, it's something that persons receive after maybe a couple of decades and not this early. It's just seven years since she gradu- ated. So it's special indeed while she is still in athletics."
Stuart said the honour is one that she feels she deserves.
"This honour means a lot to me because I worked so hard as a student-athlete to represent SIU with confidence and pride," she said. "I just wanted to leave a positive mark behind with hopes to inspire both current and future Saluki student- athletes to reach their goals both on and off the track."
Now, living and training in Auburn, Alabama, Stuart said it was good to go back to Carbondale one more time.
"I remember having to balance school with track & field practice, travelling, competing etc," she stated. "It was tough but I made certain to prioritise my time efficiently since both commitments were very important to me. I worked extremely hard so that I could excel both in the class and on the track.
"I also remember the camarade-inductees and I," she stated. "I was summer."
rie and unity our Saluki team developed, which I believe led to a lot of our competitive success. I enjoyed every moment with my teammates and coaches."
During the weekend, Stuart got to visit the new athletic facilities built since her departure, spoke to the men and women's track teams and was publicly recognised in the basketball arena during a game at halftime.
"I'm truly appreciative of SIU athletics, for holding a wonderful induction ceremony for my fellow
extremely grateful to have been able to share this special moment with some of my close family and friends."
The focus now is on Stuart's up-coming season.
"My main focus for this 2017 outdoor season is to prepare myself physically and mentally for the long jump," she said. "My coach Henry Rolle and I are working on some specifics so that I can consistently execute my jumps in order to jump far during the season and at the IAAF World Championships this
Stuart, who has represented the Bahamas at the Olympics in 2012 in London, England and again in 2016 in Rio de Janeiro, Brazil, is looking forward to making her fourth trip to the IAAF World Championships in London in August. She participated in Daegu, South Ko- rea in 2011, Moscow, Russia in 2013 and Beijing, China in 2015.
She set the national record of 6.83 metres or 22-feet, 5-inches on June 25, 2015 at the Bahamas Association of Athletic Associations' National Championships.