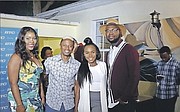 A FIVE-minute original music video featuring a host of young Bahamian artists depicting a Bahamas without conch has gone viral on social media and will be aired on local television stations.
The 'Conch Gone' video, which premiered recently at the Green Parrot Restaurant on East Bay Street, features more than a dozen performers and was directed by Lavado Stubbs, of Conchboy Films.
All of the artists contributed their services in support of the Bahamas National Trust's (BNT) Conchservation Campaign, launched two years ago in an effort to arrest the decline in conch stocks throughout the Bahamas.
The campaign is a collaboration between scientists, government agencies, non-governmental organisations, private entities and the public. Its goal is to achieve a sustainable Queen conch fishery through science-based management policies and public education.
The music video features an original rake and scrape song backing an avant garde public service message. As the song's refrain goes: "Let them mate, let them grow. If you don't, before you know - conch gone. We must think about tomorrow. Here's some simple rules to follow. Preservation, moderation ... we need some conchservation."
A future without conch is a real possibility, experts say. The fishery has sharply declined due to the harvesting of juveniles, habitat destruction and climate change. In Florida, conch fishing was banned more than a quarter century ago.
"This very creative effort to conserve the Queen conch is the result of serious concern among fishermen and scientists that once-thriving conch beds are now in dramatic decline," said BNT Executive Director Eric Carey. "When we became aware of this research a couple of years ago, we immediately embarked on a campaign to save our conch. This music video is an important tool in that effort."
A range of speakers expressed their thanks to the talented Bahamian artists, who included singer/songwriters Wendi and Dyson Knight, Anwar McDonald, Ashton 'Ton Ash' Newbold, Davon 'Mdeez' Knight, Sammi Starr, Rik Carey, Chase Fernander, Sketch Carey, Lady E, Bodine and Fanshawn.
Miss Bahamas Earth 2015, Daronique Young, and artist Allan Wallace made special appearances in the video. And Frederick "Got Stykz" Seymour is the harmonica player who also created the music bed.
Conchs do not reproduce when their numbers fall below a certain density as they have to gather in large spawning aggregations to breed. So even though conch may be visible, they may not have enough numbers to sustain the population.
Researchers report no mating at all when conch populations reach a density of less than 47 adults per hectare. And this has occurred even in the protected waters of the Exuma Cays Land and Sea Park, which has been a no-take zone since 1986.
According to BNT Marine Science Officer Agnessa Lundy, who was one of the main drivers of both the music video and the Conchservation Campaign, divers have to go further and deeper to find conch these days - as much as 30 miles offshore and 40 feet deep.
The production was sponsored by BTC, the Sandals Foundation, Frankie Gone Bananas, Bamboo Shack and Conchboy Films. It was filmed in several locations, including Arawak Cay, the Straw Market, and Montagu Beach.