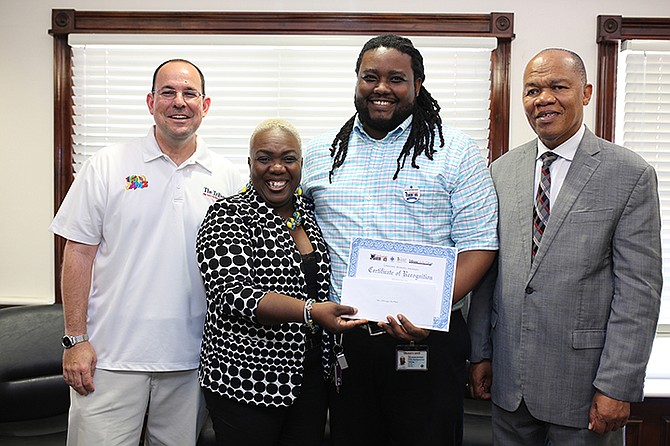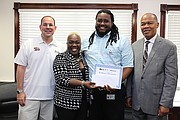 By DANIELLE BARNES
ZHIVAGO McPhee, head of the audio-visual unit at the Public Hospitals Authority, was named the May recipient of the PHA Unsung Heroes Award.
Mr McPhee has been with the PHA for two and a half years and has made an indelible mark on the organisation.
He told The Tribune that although he is always behind the camera, there is a humbling feeling of being brought to the forefront.
He also noted that with this recognition, he is inspired to put on his "heavy duty belt" and work even harder to provide quality service to the organisation.
PHA Managing Director Herbert Brown was not surprised when he heard the news of Mr McPhee's accomplishments and commended him during Friday's presentation for his hard work and dedication that has been displayed over his time with the company.
"I have said on a number of occasions, that having beautiful buildings, state of the art equipment, while that is important, what is most important in the delivery of health care is the people who provide that service.
"Zhivago McPhee, having joined the Public Hospitals Authority, has clearly demonstrated a commitment - every day I watched him and I am so proud that we would have engaged him because he is not only making me proud, but he has earned the respect of his colleagues in the commitment to his duties."
Mr McPhee utilises his formal training in mass communication with a television production emphasis to increase the impact of PHA's patient education activities. Whether it is educating the public on hurricane preparations, or alerting Bahamians on how to recognise medical emergencies, co-workers have noticed the high standards of professionalism that Mr McPhee exhibits.
Mr Brown also said: "If you work hard, never mind those times you may feel that it's coming too slow, I guarantee you at that end of the day you will get what you deserve."
The Unsung Heroes Award began this year through a partnership with the PHA, The Tribune Media Group and The Aidan Carron Children's Foundation to recognise and reward outstanding employees in the public health care system.
Kevin Darville, The Tribune Media Group's special projects manager, presented Mr McPhee with a framed certificate of recognition, a cash prize of $1,000, a dinner voucher for two at the Dune restaurant at the One&Only Ocean Club, and a pin to commemorate his selection as the fifth monthly winner.
Mr McPhee joins Veronica Ferguson, Patricia Laing, Una Bain and Glynis Armbrister as recipients of the monthly award.