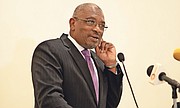 By MATT MAURA
Bahamas Information Services
PRIME Minister Dr Hubert Minnis is scheduled to attend the 38th Regular Meeting of the Conference of Heads of Government of the Caribbean Community (CARICOM) in St George's, Grenada.
The meeting takes place July 4-6. It will be Dr Minnis' inaugural CARICOM meeting as prime minister of the Bahamas. CARICOM will be chaired by Dr Keith Mitchell, prime minister of Grenada.
Accompanying the prime minister are his wife, Patricia Minnis; Darren Henfield, minister of foreign affairs; Jeffrey Lloyd, minister of education; Joshua Sears, senior policy advisor to Dr Minnis; Reuben Rahming, Bahamas ambassador-designate to CARICOM and Sharon Brennen-Haylock, director-general at the Ministry of Foreign Affairs.
The opening ceremony begins July 4 at the Grenada Trade Centre, with heads of government business sessions from July 5-6 at the Radisson Grenada Beach Resort.
The conference will welcome its two newest members - Prime Minister Minnis and Jovenel Moise, who was sworn in as president of Haiti in February 2017.
This meeting is expected to include a presentation for approval by the heads of a "Human Resource Development 2030 Strategy and Implementation Plan" to address the development of skills for the 21st Century Caribbean economy and society.
The heads of government are also expected to deliberate on outstanding matters related to the implementation of the CARICOM Single Market and Economy (CSME) following the comprehensive review of the CSME's performance presented to them at February's Inter-Sessional Meeting. They will also discuss progress made regarding implementation of the specified actions, agreed to ten years ago under the 2007 Port-of-Spain Declaration, to stop the epidemic of non-communicable diseases (NDCs); tourism in the region; and future trade relations with the United Kingdom. Regional security issues are also expected to receive attention.
The Caribbean Community (CARICOM) is a grouping of 20 countries -- 15 member states and five associate members --and is home to approximately 16 million citizens, 60 per cent of whom are under the age of 30 years.