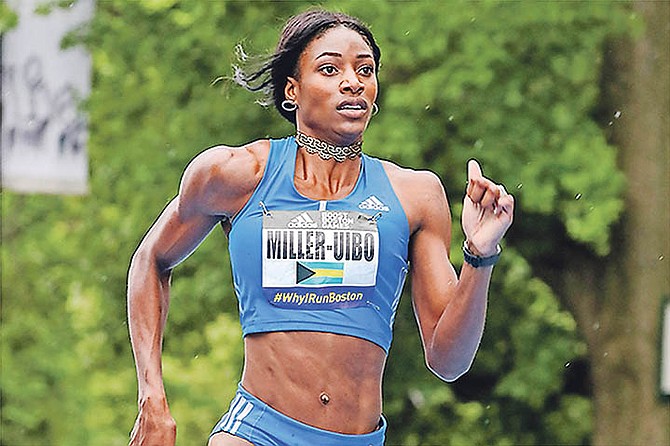 By RENALDO DORSETT
Tribune Sports Reporter
rdorsett@tribunemedia.net
Shaunae Miller-Uibo and Steven Gardiner continue their stellar seasons on the professional circuit and are positioning themselves as strong contenders in the 400m at the IAAF World Championships in August.
Both national record holders ran to first place finishes in their signature event yesterday at the Gyulai Istvan Memorial meet in Szekesfehervar, Hungary.
Miller-Uibo set a new meet record of 49.86 seconds to finish well ahead of the field in dominant fashion. American Courtney Okolo ran a season's best time of 50.41, followed by Chris-ann Gordon of Jamaica, third in 51.05. Taylor Washington of the United States ran a season's best 52.08 to finish fourth and Lydia Jele of Botswana rounded out the top five in 52.20.
Gardiner ran 44.61 to pull away in the final 100m. Luka Janezuc of Slovakia finished second in 45.44, Machel Cedenio of Trinidad and Tobago was third in 45.47, Nery Brenes of Costa Rica ran a season's best of 45.71 and Renny Quow of Trinidad and Tobago was fifth in 45.78.
Gardiner is quickly developing a habit of top performances at the Gyulai Istvan Memorial.
In 2015 at just 19-years-old, he shocked track and field pundits with a convincing win over then world champion LaShawn Merritt of the United States in 44.30.
Jeffrey Gibson, the third Bahamian competing at the Gyulai Istvan Memorial yesterday, finished fourth in the 400mH in 49.74.
Both Miller-Uibo and Gardiner have established records and wins on the IAAF Diamond League circuit this season.
In April, the reigning Olympic champion, Miller-Uibo ran the world's second-fastest time this year of 49.77 to claim her second successive victory in the Shanghai IAAF Diamond League meet on Saturday.She has listed her intention to double in the 400m and 200m at the IAAF World Championships and has been proficient in the half lap this season as well.
At the Adidas Boost Boston Games she became the first Bahamian female to hold a world record in an athletic event when she posted her winning time of 21.76 in the 200m straight.
At the Diamond League's Prefontaine Classic in May, Miller-Uibo ran a national record of 21.91 to finish second behind American Tori Bowie in 21.77.
In the process, Miller-Uibo improved on her previous national record of 22.05 that she ran on June 11, 2016 at the Jamaica's National Racer's Grand Prix in Kingston, Jamaica.She is currently ranked second on the IAAF Top List in both events.
Gardiner is currently third in the world on the IAAF Top List in the 400m, with a time of 44.26 turned in at the Grenada Invitational in April. He trails American Fred Kerley who has posted times of 43.70, 44.03, 44.09, 44.10 and 44.11. Gil Roberts, also of the United States, is second on the list at 44.22.
In April at the Doha 2017 in Qatar, Gardiner made up the stagger on Merrit quickly and finished in 44.60.
Nearly two months later in June at the Stockholm Diamond League on Father's Day, Gardiner clocked 44.58 to take first place over Baboloki Thebe from Botswana, who did 44.99.
He retained his national title last month at the BAAAs National Championships with a winning time of 44.66.