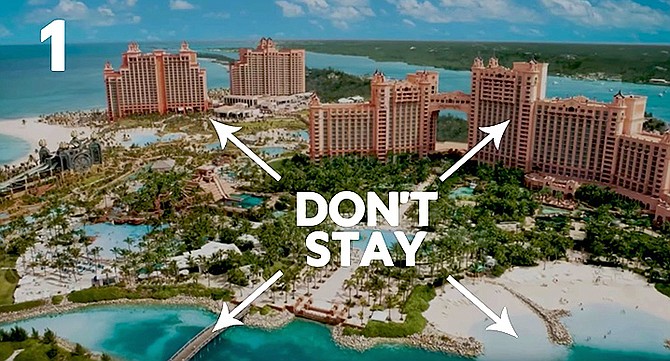 By NICO SCAVELLA
Tribune Staff Reporter
nscavella@tribunemedia.net
THE Ministry of Tourism will "redouble" its marketing efforts to "counter" an inflammatory video encouraging prospective visitors to avoid New Providence to preserve their own safety, Tourism and Aviation Minister Dionisio D'Aguilar said yesterday.
Mr D'Aguilar, on the sidelines of a press conference at Ministry of Tourism's headquarters, regretted the "false information" contained in the video that was shared on social media this week.
Still, Mr D'Aguilar admitted that New Providence "is not something that we should be proud of," adding he is "unimpressed" with the experience cruise visitors have when they arrive at the Port of Nassau. He said he will soon hold a meeting with all stakeholders to find a solution to make New Providence's tourism product better.
His statements were in response to a controversial video making the rounds on social media, in which the narrator highlighted potential dangers in visiting New Providence, referring to the crime situation in both Nassau and Grand Bahama.
Topping the list was the warning "Don't stay on New Providence Island."
The video's narrator also offered the following advice to viewers: "Sadly the island is listed as a critical threat to tourists on most travel advisories. Criminal activity has spiked in recent years, including rapes and muggings. To play it safe, book your stay in the Out Islands."
Another warning: "Don't go to non-tourist areas at night," highlighted how "many of the country's crimes happen on New Providence and Grand Bahama, and many incidences occur after nightfall".
"Armed robberies, home invasions and sexual assaults targeting tourists are common," the video's narrator added.
The video, which had 20,000 views on Facebook and was shared over 200 times as of yesterday afternoon, has attracted mixed reviews from Bahamian viewers, with some agreeing with the video's assertions and others vehemently repudiating them.
When questioned on the matter yesterday, Mr D'Aguilar said: "Social media, it has its advantages and it has its disadvantages. And one of the disadvantages is anybody can post anything about a destination and it's left to the Ministry of Tourism I guess to respond to it.
"Of course we will double, redouble our marketing efforts to counter such false information about The Bahamas. I mean we have our problems, we all know what our problems are, but the benefits of travelling to The Bahamas and the enjoyment that millions of people have when they come to The Bahamas each year far outweigh the issues brought to (attention) in that video.
"So it's unfortunate, and when I watched it I said 'goodness gracious me,'" he continued. "But this is the disadvantage of social media, you cannot control the content. And this will happen from time to time. People will put up fake news about your destination and it's up to us and our marketing team to counter that. So rest assured we will be responding to that and trying to see the penetration. Obviously in this jurisdiction it gained a lot of traction because we're all interested in it, but we'll see whether it's gaining traction in other areas of the world.
"I mean, I don't know, if you're sitting in New York City are you going to get this video? Are you going to see it? So our marketing team will determine how far and wide it's travelled and we will put up a message that counters that."
Still, Mr D'Aguilar regretted the current state of affairs in New Providence, stressing that "our tourist product needs some work."
"…And I alluded to that in my maiden speech in the House of Assembly, that the city of Nassau is just not something that we should be proud of," he said. "And we really now need...there's been 100 studies done, and 100 possible solutions come up, but the time to act is now. And I'm going to (bring that up) in a meeting with all the stakeholders…I hope and I pray that we can come to a decision amongst ourselves to come up with a solution to this.
"I mean, when the cruise visitors arrive at the port of Nassau, I am very unimpressed. I am not proud of that experience. And we need to do something about it. And I've made that a primary focus of this ministry to address that issue, the port of Nassau, and then obviously when they come into the city of Nassau, we need to address these issues, because it's just unacceptable."
He added: "These cruise visitors that come here, that hopefully one day we want to convert (them) into a stopover visitor, and they have the experience that they have, it's not something that we're proud of and we should certainly address that issue."
In 2015, then Minister of Tourism Obie Wilchcombe expressed disappointment in a video made by Disney Cruise Line employees that portrayed The Bahamas in a negative light.
The controversial, three-minute long video starred Americans Casey Gill and Joseph Oster, both said to be Disney Cruise Line employees, It was filmed in downtown Nassau.
The video, a spoof styled as an infomercial, showed the pair acting as a couple on vacation, experiencing the worst that Nassau has to offer. In one scene of the video, Mr Oster was shown sitting on Junkanoo Beach playing in sand littered with cigarette butts and bottle caps as a pile of garbage is shown in the background.
In another scene, Ms Gill was shown in front of several derelict buildings that the narrator called "four star hotels and fine dining establishments."
The video ended with the couple frolicking on the beach with the words "visit www.nassau.com/getoutnow or call 1-800-DONTFEELSAFE," scrolling across the bottom of the footage.
The video had nearly 70,000 views on Facebook and was shared about 1,000 times.