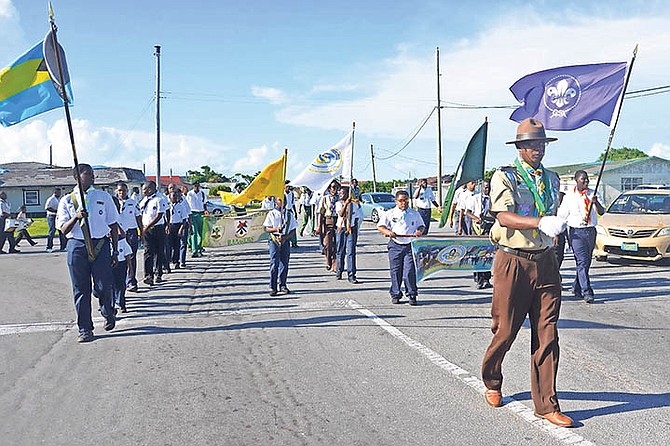 By DENISE MAYCOCK
Tribune Freeport Reporter
dmaycock@tribunemedia.net
THE need for unity among all Bahamians was stressed by Baptist minister Rev Dr Elvis Burrows during his sermon at the country's 44th independence celebrations at Independence Park in Freeport.
"We must recognise (we are) one people are living in one Bahamas," he said. "There is an urgent call for us as a nation to become one people again. This is a serious call for us to strive for national unity as a people."
Rev Burrows, the pastor of Central Zion Baptist Church, said the country is struggling in the area of unity, even in the church.
"We must work towards unity for the survival of our nation. If we see ourselves as Bahamian, why after 44 years as a free, sovereign independent nation, we still label (ourselves) - we are not Grand Bahamians, white Bahamians, naturalised Bahamians, Haitian Bahamians, and Jamaican Bahamians - we are Bahamians.
"I know it is important as a nation that we must keep records, but we should not...label and discriminate against fellow citizens, regardless of the process by which they have obtained Bahamian status," he said.
Rev Burrows said Bahamians are too often at war with each other and one only needs to read the newspapers and watch the news to see this.
"We will never achieve oneness until a greater majority of our people feel that they have equal opportunity toward what this country has to offer; we will never achieve oneness in The Bahamas when basic opportunities are denied to the best and brightest, and who for survival seek the same opportunities in foreign lands."
He explained that the culture of caring and being concerned for one another had been replaced by hatred, selfishness, and lack of love.
"That love is replaced by materialism and greed. I submit that this slowly emerging trend is one of the catalysts behind the rising subculture of crime and lawlessness, and if something is not done soon we are headed for bigger problems,' warned Rev Burrows.
"But if we have God on our side, no matter how bad it gets there is never an excuse for crime and violence."
Referring to the theme of this year's independence celebrations, Rev Burrows said that it is time for Bahamians to reset and refocus themselves, and begin to move in a direction that the country's ancestors started some 44 years ago.
The celebration Sunday night was filled with cultural and inspirational songs, dance and exciting performances. One of the highlights of the evening was the procession of the various law enforcement branches.
Deputy Prime Minister K Peter Turnquest, MP for East Grand Bahama, conducted the inspection of the guard ceremony. At midnight, a spectacular fireworks display left Bahamians in awe as the country entered its 44th year of independence.