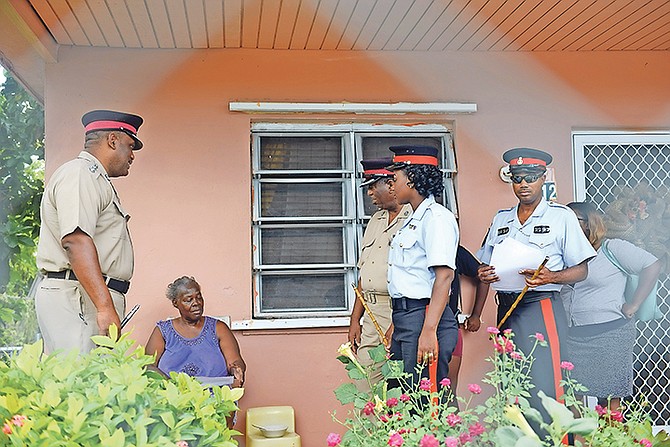 By RICARDO WELLS
Tribune Staff Reporter
rwells@tribunemedia.net
IN a continued effort to strengthen community links, senior police and Urban Renewal officials yesterday partnered with area representatives on walkabout in the Yellow Elder and Millennium Gardens communities.
Described as areas of crisis over the last decade, the communities have experienced aspects of a renaissance in community development and youth initiatives being spearheaded by Urban Renewal and associations.
In March, the community of Yellow Elder was devastated by the murders of two teenage boys, whose bodies were discovered on a dirt road in the community.
Francilda Cargill, a retiree who has called Yellow Elder home for most of her life, said the community isn't the centre of turf war as described by some, but rather a neighbourhood locked in a drug battle between misguided youth.
"Drugs -- it isn't a turf war -- drugs," she said, seated on her front porch Wednesday.
"This one selling drugs, the next one selling drugs; I see them with my own eyes selling drugs."
She added: "I talk to them, and I tell them about the law and warn them, that is what I usually do. I warn them and talk to them because I have two sons and grandchildren."
When asked about the presence of police in the area, Mrs Cargill said she has always been impressed by the attitudes displayed by officers. She said despite their best efforts, however, the lack of true parenting has led to a crisis no number of police interjection can resolve.
"I will say it like this, parents. It goes from the home, you have to, y'all that have children, bring your children up in the right way. Scolding them (will not) kill them.
"If you see a child bring something home and know that you didn't buy that for him, let him take that back, you see. It is the home," she said.
"(Police) are trying to help, but if (parents) don't correct them in the home, (then crime is the result).
"If a child takes something from a next child and carry it home and the parents enjoy it, one night they bring the money home and want (the parents to) enjoy it; if you don't tell your children that it is wrong, then how you expect for Nassau or the Bahamas to? It comes from the home."
Since March's tragedy, police have strengthened their partnership with the Yellow Elder Community Association (YECA).
Vice-president of YECA Nevolia Johnson and President of YECA's Crime Watch Unit Clint Conliffe joined police for Wednesday's walkabout.
The pair said it was important for them to join police officials yesterday to show a more united front to members of the Yellow Elder and Millennium Gardens communities.
The two men said their presence over the last several months has aided greatly in crime prevention efforts in the various neighbourhoods that make up the area.
In addition to crime watch, YECA facilitates various social initiatives and programmes throughout the community.
Praising the partnership on display Wednesday, Senior Assistant Commissioner of Police Stephen Dean called for the model to be duplicated throughout the island.
"Working with community organisations, that is the approach that we look for, establishing crime watch groups in these communities," Senior ACP Dean said. "People have to assist in policing their communities and we think that what you see in Yellow Elder with the combination of the crime watch groups and we also have religious leaders and the police officers, this can be a model that can be duplicated in some communities in New Providence.
"People want to feel that they can go to the beach. People want to feel that they can go to the food store. People want to feel that they can come in areas such as Yellow Elder to visit family members and feel safe, they don't have to be looking over their shoulders."
Senior ACP Dean added: "You know we ride around in the cars a lot of times, but this one on one, this personal touch, it is reaping some great results. And I can tell you that our officers are on the ground and are up and about, this is not just a Wednesday walkabout.
"The commanders and the respective divisions are on the ground, everybody is following our police mandate in our policing plan. So, while we have a group doing this approach to crime--the preventative, speaking to people and gathering intelligence--we have an operations group who is seeking out those persons wherever they live. So, a number of persons are in prison as a result of these operations that we are doing."
Yesterday's walkabout marked the fourth in as many weeks.
Senior ACP Dean said more walkabouts are planned for other communities.