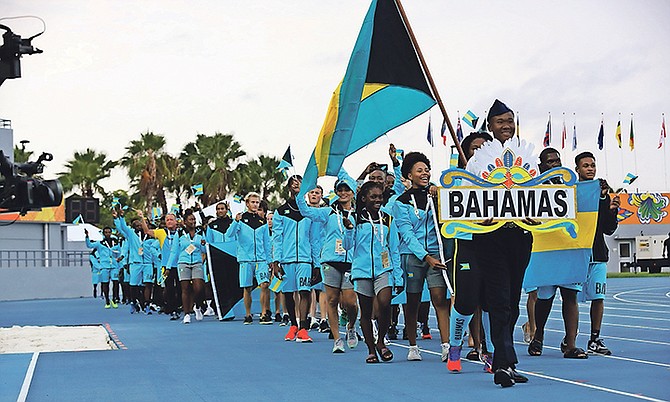 http://youtu.be/1ylVGE1m5hk
JUDO FINAL STANDINGS
• HERE is a look at the final standings for the judo competition on day one of the Commonwealth Youth Games yesterday at the Kendal Isaacs Gymnasium:
MEDAL TABLE
Position Country 1st 2nd 3rd 5th 7th
1 England 4 0 1 1 0
2 Australia 1 3 0 2 0
3 Scotland 1 2 1 1 1
4 India 1 0 3 0 0
5 Zambia 1 0 0 0 0
6 Cyprus 0 1 1 0 0
6 Northern Ireland 0 1 1 0 0
8 Mozambique 0 1 0 0 0
9 Bahamas 0 0 2 1 2
10 South Africa 0 0 1 0 0
11 Barbados 0 0 0 1 1
11 Wales 0 0 0 1 1
13 Samoa 0 0 0 1 0
14 Sri Lanka 0 0 0 0 1
15 Guyana 0 0 0 0 0
15 Malawi 0 0 0 0 0
15 Trinidad & Tobago 0 0 0 0 0
Medal winners and individual finishers
Women's 48kg - 1. Sian Bobrowska, England; 2. Fiona Ulaan Todman, Scotland; 3. Sofia Asvesta, Cyprus; 3. Antim Yadav, India; 5. Sophie Eleanor Robins, Australia; 5. Jasmine Russell, Bahamas; 7. Fion Mair Robinson, Wales.
Women's 57kg - 1. Leah Kaye Grosvenor, England; 2. Emma Catherine Forrest, Scotland; 3. Mya Beneby, Bahamas; 3. Rabina Devi Chanam, India; 5. Saskia Jolande Brothers, Australia; 5. Aniah Clarke, Barbados; 7. Hafsa Yameena Rifaz, Sri Lanka.
Women's 70kg - 1. Holly Olivia Bentham; 2. Francis Lavina Oive Newman, Australia.
Women's +70kg - 1. Emily Elizabrth Ritchie; 2. Aolfe Kirstie McCallion, Northern Ireland; 3. Karra Hanna, Bahamas.
Men's -60kg - 1.Simon Zulu, Zambabwi; 2. Gorgios Balarjishvilli, Cyprus; 3. Ashiah, India; 3. Mosa Thetsane, South Africa; 5. Callum William John Bennett; 5. Harry Zain-Prosser, England; 7. Davante Sweeting, Bahamas; 7. Connor Thomas Wilson, Scotland.
Men's -73kg - Soni, India; 2. Uros Nikolic, Australia; 3. Matthew Elliott, Northern Ireland; 3. Lachian James Moorehead; 5. Ryan Quigley, Scotland; 5. Tristan Vaal, Samoa; 7. Taliano Ferguson, Bahamas; 7. Khalil Jessamy, Barbados.
Men's -90kg - 1. Thomas Matthew Lish; 2. Connor Anthony Smith; 3. Louis Thomas George Saez, Scotland.
Men's +90kg - 1. Timothy Mark Hollingbery, Australia; 2. Helder Martins, Mozambique.
By RASHAD ROLLE
Tribune Staff Reporter
rrolle@tribunemedia.net
THE 6th Commonwealth Youth Games kicked off last night in front of a sparse crowd at the Thomas A Robinson Stadium, the start of the largest sporting event ever held in The Bahamas.
More than 1,000 athletes from ages 14 to 18 representing 65 countries will participate in nine sports over the next five days, including swimming, athletics, beach soccer, beach volleyball, boxing, cycling, judo, rugby and tennis.
Not since the 1966 Commonwealth Games in Kingston, Jamaica has a Commonwealth Games event been held in the Caribbean. This is the latest international sporting event hosted here, flowing from the Christie administration's efforts to boost sports tourism.
Youth, Sports and Culture Minister Michael Pintard told The Tribune the event will cost The Bahamas more than $7m to host.
"Our journey began three years ago when the government of The Bahamas, through the Bahamas Olympic Committee, formally expressed an interest in hosting these games," he said. "This has been a major undertaking that has required substantial financial resources, diverse talents from the private and public sectors along with the various sports federations throughout the country."
True to the spirit of the event, the opening ceremony was dominated by the music of the Bahamas All Stars and Urban Renewal youth bands which provided the musical backdrop to the entrance of the athletes into the stadium.
Bahamian artists Wendi, Dyson Knight, Rik Carey, Lady E and Julian Believe were also on the programme and the event was capped off by fireworks and a Junkanoo rush out.
"You are on a global stage," Prime Minister Dr Hubert Minnis, who was warmly embraced by the crowd, said during the opening ceremony. "The world is your audience. Endeavour to do your best."
He also said: "For many of you, this will be but a first step to greater glory in the years ahead. Names that will resound around this stadium will, hopefully, be the names that we will hear for years to come.
" . . . Athletes, you are here because of the sacrifices that you have made and because of your determination and discipline. This has already made all of you winners and deserving of praise and admiration."
Only a quarter of the stadium was filled for the opening ceremony.
Despite this, Mr Pintard said ticket sales are "going well" with respect to a number of events.
"I'm hoping that the public is going to turn out in good numbers," Mr Pintard said.
Two sporting competitions, beach volleyball and judo, began before yesterday's opening ceremony.
Kara Hanna, who won the Bahamas' first medal, a bronze in the Judo +70kg event, was the Bahamian flag-bearer during the ceremony.
The sporting competitions over the next week are free to people under 18.