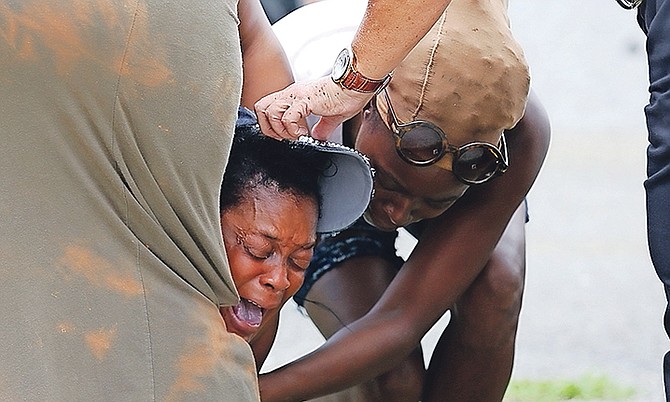 http://youtu.be/SfXyVeRmIsY
http://youtu.be/FlowNAVEuKs
By SANCHESKA DORSETT
Tribune Staff Reporter
sdorsett@tribunemedia.net
ONE man is dead and another man is in hospital after they were shot yesterday afternoon while sitting outside a home off Nassau Street.
Police said one of the men died after being shot while the other victim was chased by gunmen before he was wounded.
The killing took the country's murder count to 75 for the year according to The Tribune's records and marked the third murder in the capital since Saturday.
Senior Assistant Commissioner of Police Stephen Dean said the latest shooting incident is in line with a recent trend of persons, either out on bail or wanted by police, being "gunned down on the streets."
While he could not confirm if any of the victims were currently out on bail, he said they were both "well known to police."
When The Tribune arrived on the scene shortly after noon, family members of the victims were on the ground screaming uncontrollably.
A Royal Bahamas Defence Force officer, who is believed to be a brother of the murdered man, had to be carried away by his squad mates after attempting to run to the dead body several times.
Police have not identified the victim, but The Tribune understands he is Jermaine "Beanie" Bain.
"Police are looking for four male occupants of a silver or greyish coloured Teana vehicle, who are responsible for this latest shooting incident. We are asking members of the public who may know the whereabouts of this vehicle to come forward and call us please," Senior ACP Dean said.
"Shortly before noon, two males were sitting in a yard through Quarry Mission Road when this vehicle pulled up. The four males exited the vehicle with firearms and opened fire on them. The two men were shot," he said.
"One of the males died on the scene, the other was chased a bit and shot. He was taken to hospital in a private vehicle, where he is listed in critical condition...Preliminary reports indicate that these men might have been in and out of the system.
"We have to confirm to determine their status, whether they are on bail or not but we can tell you our recent shootings, the trend we continue to see are persons in and out of the system, who have either been recently released from prison or who were wanted suspects," said the senior police officer.
As of this time last year, the country recorded 62 homicides, according to The Tribune's records.
Senior ACP Dean said despite the recent uptick in homicides, police have increased their presence in high crime areas. He asked the public not to give up on the RBPF.
"We want the public to know we are on top of this," he said.
"We are confident based on our investigations and based on the support that we are getting from the public and what we are getting on the ground that we will have the suspects involved in the latest murders in custody soon but we cannot do it alone.
"We have increased our operations in these and other areas in New Providence, because if you look at our crime briefs we are recovering a number of firearms. That is because our intelligence on the ground is working, but we want to reassure members of the public and ask them to maintain their confidence in the RBPF because our officers are on the road 24/7 ensuring that we keep our streets safe from these criminal elements."
The murder came one day after a man died in hospital after being shot Sunday night off Robinson Road.
That incident took place shortly after 10pm. Police said the victim was walking on Third Street in Coconut Grove, off Robinson Road when a man approached him, armed with a handgun. The suspect shot the victim before fleeing the area in an unknown direction.
The victim was taken to hospital in a private vehicle, where he was initially listed in serious condition.
However, he died of his injuries early Monday morning.
Police arrested a suspect Monday afternoon in connection with the death.
In late May, when asked about concerns over violent crime, Prime Minister Dr Hubert Minnis said "there is a sense of calmness" hovering over the country after his party's crippling defeat of the Progressive Liberal Party.
However, at the time he said he is sure National Security Minister Marvin Dames will be aggressive in rolling out the party's crime plan. There have been 22 murders since the Free National Movement's win on May 10, according to The Tribune's records.
Anyone with information on any of these latest homicides or any other crime is asked to contact police at 911 or 919, the Central Detective Unit at 502-9991 or Crime Stoppers anonymously at 328-TIPS.
Investigations continue.