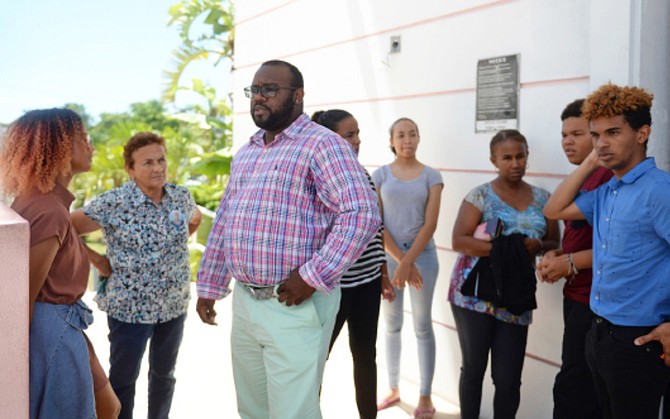 By RASHAD ROLLE
Tribune Staff Reporter
rrolle@tribunemedia.net
GRIEVING family members of Christopher Turnquest, a 25-year-old who was killed in a boating accident involving the Royal Bahamas Defence Force last year, will have to wait until today for the inquest into their loved one's death to begin as the matter was adjourned yesterday because the legal team for the law enforcement agency had not been properly briefed.
A lawyer for the RBDF, Calvin Seymour, apologised and requested the adjournment, saying: "We know nothing about the case or the interested parties. Our firm's name was tossed around with no instructions and so we did not see a need to go further.
"We humbly request an adjournment to sit, discuss with police officers and get the file."
Mr Seymour said they were given instructions in the case only yesterday morning.
Coroner Jeanine Weech-Gomez called the situation "unfortunate", and she blamed the RBDF for the delay, saying: "I don't know why the defence force waited until the eleventh hour to get this going. It's not like this matter happened yesterday. It's most unfortunate having regard to all the circumstances. They were informed from April and should've been ready for Monday."
Asked by The Tribune for a response to its lack of readiness to proceed with the inquest in a timely fashion, the RBDF did not respond up to press time yesterday.
In the courtroom yesterday, a number of defence force witnesses sat near the Turnquest family.
The deceased was in the harbour off Potter's Cay Dock in a 13-foot skiff around 8pm on October 2, 2016 when his skiff was struck by a RBDF vessel.
He was on the skiff with his cousin who jumped from the vessel moments before the collision and survived the crash.
According to the family, an autopsy of Christopher's body revealed he had died of blunt trauma to the body.
The Turnquest family has been upset about how slowly the matter has progressed.
They created a Facebook page called Justice for Chris to honour him.
The matter was initially expected to start on Monday, however when Turnquest's relatives arrived at court, they were told the coroner had taken two "personal days."
The inquest will resume at 1pm today.