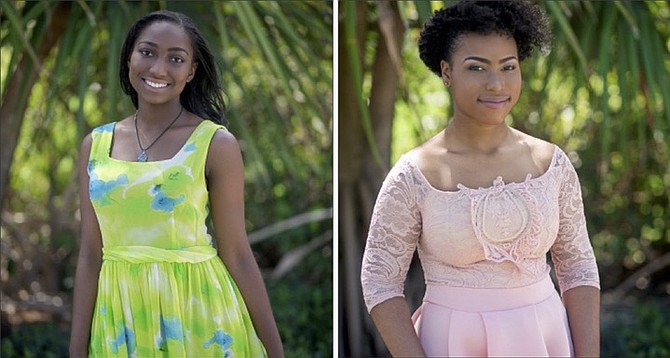 Escorted by their fathers, they entered one by one; 26 in total. Each debutante the picture of poise in pristine white ball gowns and glimmering tiaras as they performed their first waltz with their fathers.
The Bahamas Debutante Foundation Ball, held every Spring, is the culmination of a six-month personal development and enrichment programme that has benefited more than 1,500 young ladies since its inception in 1997. Each year, one debutante who has exhibited the most personal growth and excellence is named 'Debutante of the Year'.
This year, for the first time in its 20-year history, the title of overall winner was shared between two young ladies – Tyeisha Collie, a 12th grade student at Akhepran International Academy, and Vanneisha Mackey, a 12th grade student at St Anne's School.
"Both Ms Collie and Ms Mackey exemplified what it means to be a debutante," said Cristina Johnson, president and founder of the Bahamas Debutante Foundation. "They are both confident, driven, respectful and polished young ladies who committed to the six-month programme and will undoubtedly go on to do great things in their future."
As graduating seniors, both young ladies have their futures front and centre on their minds.
Tyeisha, a deputy head girl, Junior Achievement Aspire programme member and Bahamas Outstanding Student Foundation honouree, plans to pursue the pre-med track at the University of Central Arkansas with the ultimate goal of becoming a forensic pathologist.
Vanneisha, who is highly active in her high school as president of the choir, vice president of the Student Christian Movement, secretary of the Red Kettle Club and public relations officer for the Interact Club, plans to study biology at the University of The Bahamas in the Fall. Her goal is to become both a paediatrician and an entrepreneur.
While already excelling both academically and in their extracurricular activities, both ladies shared similar reasons for enrolling in the Bahamas Debutante Foundation programme.
"I enrolled in the programme to become more confidant networking and socialising with others," said Tyeisha. "I was always a shy person and I would distance myself from others. Then I realised that in order to succeed in my endeavours I needed to be social and get over my fear of talking to others, and the programme provided the perfect training to do so."
Vanneisha also credits the Bahamas Debutante Foundation with helping her to communicate with others more confidently.
"The most impactful experience I had during the programme was overcoming my fear of public speaking. A Toastmasters session was held and every young lady gave a speech on the topic 'Opening Doors for Tomorrow's Success'. Presenting my speech took me out of my comfort zone and I learned from our mentors how to truly make the floor my own," she said.
This year, the Bahamas Debutante Foundation celebrates 20 years of inspiring young ladies, boosting their self-esteem and empowering them to be successful.
The programme was launched in 1997 by Cristina Johnson, a veteran educator who saw first-hand how overwhelming life can be for an adolescent on the verge of adulthood. Every year, the Debutante Foundation invites 30 to 60 12th grade female students with a GPA of 3.00 or above who are active in their schools and communities to participate.
"These young ladies sacrifice their Saturday afternoons for six months to embark on a journey of spiritual growth, interpersonal development, social refinement and responsible citizenship," said Ms Johnson. "When they emerge from this programme my hope is that the keys to success they learned will remain with them as they embark on their life's journey."
This year's Debutantes of the Year can attest to the value of the programme. "The Debutante Foundation truly develops young ladies into strong, young women," said Tyeisha. "It is a perfect opportunity to network with others and learn from wise mentors."
Vanneisha concurred: "I would most definitely encourage young ladies to enroll. I believe that the programme truly transforms lives and makes young ladies polished, poised and prepared for a successful future."