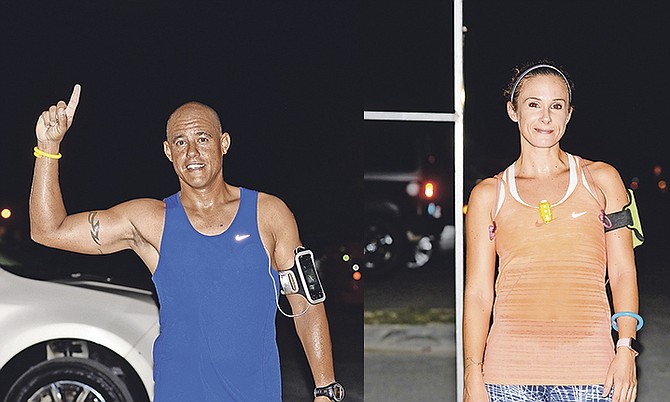 By BRENT STUBBS
Senior Sports Reporter
bstubbs@tribunemedia.net
FOR the second consecutive year, the Roadmasters Running Club showed its support for a local charity by hosting its Midnight 10-kilometre fun run/walk charity road race.
The event got started at Arawak Cay at midnight on Thursday, travelled to the round-a-bout at Baha Mar and ended up at Arawak Cay where the participants took part in light refreshments as they mixed and mingled.
Although they didn't give out any awards for their accomplishments, triathlete Cameron Roach earned bragging rights as the first overall finisher, while Suzy Eneas was the first female to cross the line.
For Roach, the former national swim team member said after he started competing in triathlons about four years ago, he decided to test his skills in the run, which is the last component of the gruelling event.
"It was good, it was hot, but it was a good pace," said the soon-to-be 39-year-old Roach. "There were three of us in the pack and I was holding on waiting for the opportunity.
"After I saw that Jason (Maynard) was tiring, I tried to take advantage of it. I went out and he came after me. I decided to hold on and I was able to hold on by a couple of feet."
While he does a lot of his training in the mornings before the sun comes up, Roach said he wasn't affected by the conditions they competed in.
"It's better than running in the day or early in the morning," he said. "I can run this again anytime. I am trying for a couple other events later this year, so it was good to get this one under my belt."
As Roach raced to the finish, Maynard was right on his trail, but wasn't able to catch him before the end was in sight.
"It was really good, better conditions than last year," Maynard said. "It was a flat course, very fast, so I was just happy with the race. I ran a very good time and finished strong."
Maynard, 40, said he saw Roach shadowing him but after he passed him, he ran out of real estate as he tried to regain possession of the race.
"It was close," Maynard stressed. "He kicked and I kicked, but he managed to get away."
With very limited concerns from the traffic on the road, Maynard said as soon as the next race is scheduled, he will be there to compete again.
Last year, Eneas came in second behind Joan Ellis-Lightbourne. This year, the result was reversed as Eneas ran with Roach and Maynard before they slowly pulled away from her at the end.
"It was very good. This is the second one. I had a great time last year, so I decided to come back for this one," Eneas stated. "I'm one of the Roadmasters members and they always put on a very good organised event, so I really enjoyed it."
Once Roach and Maynard pulled away, Eneas said she contended not to be caught. She wanted the victory to help her celebrate her 39th birthday today.
"I feel kind of lucky because this humidity doesn't affect me at all," said Eneas about the conditions they competed in. "The only thing that bothers me in the night was the traffic, but it wasn't a problem, so I felt very safe."
Last year, Ellis-Lightbourne was the first female finisher, but she admitted that she wasn't disappointed in relinquishing the title to Eneas this year.
"It was very humid, some breeze and lots of traffic out there, but it was enjoyable as usual," she said. "It's a charitable event and the monies will be donated to the Sickle Cell Association, so I'm glad that we as Roadmasters can help and give a lending hand."
As a teacher at TG Glover Primary School, Ellis-Lightbourne, who turns 42 on July 14, said it was good to get in the run before she joined her working collegiate in celebrating Labour Day.
Roadmasters president Charles Johnson said they had over 200 competitors signed up, but just over 100 participated and completed the course without any injury or incident.
"This is the brainchild of Dr Ebby Jackson, who thought we should have a night run, something that is different and something that runners would be enthusiastic about doing," he said.
"We also decided to support one of the local charities. As this is the second year doing it, we decided to choose to give the proceeds to the Bahamas Sickle Cell Association. We were quite pleased with the amount of competitors who showed up to participate."
For the record, Roach was timed in just about 40 minutes and Eneas came in as the first female about three minutes afterwards. For those who didn't run, they walked as they were laminated with brightly coloured clothing, tennis shoes or other items to be visible to the motoring public.