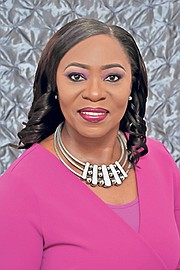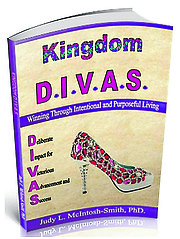 By JEFFARAH GIBSON
Tribune Features Writer
jgibson@tribunemedia.net
AS an advocate for the development and advancement of women, Dr Judy McIntosh-Smith became disheartened by the "lower standard mindset" she saw many women exhibit. And with the launch of her newest book, 'Kingdom DIVAS', she hopes to change this damaging attitude women have towards themselves by helping them recognise the power they possess to chart their own success.
To officially release the book, Dr McIntosh-Smith is inviting women from all walks of life to join her during a signing and party on June 23 at Southside Christian Church International beginning 7.15pm.
Dr McIntosh-Smith is the founder and director of The Esther Gathering, a ministry that ministers spiritually to women. She is also the founder and CEO of the Winning in Life for Women programme, which provides training, coaching, counselling and mentoring for women. Through this programme, she seeks to inspire, motivate and empower women to excel and succeed in every area of their life. She also founded and directs Majestic Young Ladies (MYL), an initiative that mentors teenage girls.
Dr McIntosh-Smith currently serves full-time as executive pastor at Southside Christian Church International. She is married to Dr C Clifford Smith III, senior pastor of the Southside Christian Church. She is the mother of two teenage children.
She has also authored several books, including "Born to Win: Awakening the Champion Within", "Exceptional You: Refusing a Life of Average", "Revealing the Princess Within: Affirming the Value of Teenage Girls", "Winning in Life for Women: Nuggets for Success", and "Winning in Life for Women: Prayers for Success".
Her latest book, "Kingdom DIVAS: Winning Through Intentional and Purposeful Living", is also accompanied by a work book that seeks to train and mentor women and girls.
"Kingdom DIVAS is a book born out of a deep desire to help women win in life. It is written to help women search deep within to unleash their full potential and soar to success. It shows them that they have the power and ability to become who they are supposed to. It encourages them to put strategies in motion today, so that their tomorrow is so much brighter," the author told Tribune Woman.
Dr McIntosh-Smith said the book offers simple, but profound and powerful keys to help women learn how to fuel and release their potential, reprogramme their thinking, recognise why a positive attitude is vital to winning in life, and more.
"My inspiration for writing 'Kingdom DIVAS' is that I kept noticing what I call 'a lower standard mindset' among our women, which I knew was causing them to settle for so much less in life, and in many cases live in defeat. Being an advocate for the development and advancement of women, I wanted to help women to have a deeper understanding of their true value and worth. 'Kingdom DIVAS' was written to assist them in seeing those qualities and so much more. Each key is designed to help them break free of the lack of confidence and flawed mindset, and get them to a place of greatness," she said.
Over the years, Dr McIntosh-Smith has devoted herself to inspiring women and letting them know they can be successful at whatever they set their minds to.
"I felt it important to share this information with readers to create in them a thirst for wanting to be the best they can be in life. Through reading 'Kingdom DIVAS' it is my hope that they will be inspired, motivated, empowered and encouraged to get up from where they are, 'flap their wings' and begin to soar. I know that once they adopt this mindset and begin moving, they will become unstoppable and will certainly move into success and greatness. Also, the 30-day journey work book has been carefully designed through its activities to get women to that place of high achievement," she told Tribune Woman.
Dr McIntosh-Smith holds a doctor of Philosophy Degree in Counselling, a Master of Arts in Christian Education. and a Bachelor of Science in Biology.
She is also a trained marriage, family, youth and children's counsellor and instructor. Additionally, her concern for the overall physical health and well-being of people led her to pursue and complete training as a certified nutrition and wellness consultant.