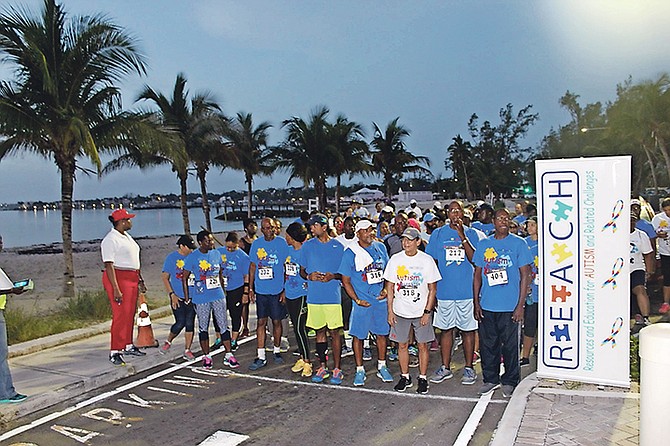 Hundreds participated in the second REACH Bahamas fun run/walk held at 6am on Saturday, May 27. The race raised more than $3,000 for the non-profit, which serves as the Bahamas' resource and educational source for autism spectrum disorders (ASD) and other related challenges.
Proceeds from the event will be used to fund REACH initiatives, including ongoing therapy and a summer camp for children affected by ASD.
"The fun run/walk supports our initiatives, which are to provide children with ASD access to both early intervention and ongoing resources," said Marcia Newball, REACH executive director. "This includes advocating on behalf of the autism community and providing support and resources to parents of children with ASD and educating caregivers, teachers, health-care personnel and the public about autism."
The four-mile route started at Montagu Beach and continued West to the Sir Sidney Poitier Bridge, over the bridge to Paradise Island and back to Montagu Beach.
A total of 30 winners were announced in various categories. Trophies were awarded to the first, second and third place winners in the male and female walkers and runners categories, further broken down into five age groups. The oldest and youngest participants were also given special prizes.
"It was truly an amazing event as we painted the street blue in support of REACH Autism Bahamas," said David Prabhu, the first place walker. "Everything was well planned and executed. We are already making plans for 2018."
In addition to the race, participants enjoyed free samples at booths sponsored by Asa H Pritchard, AML Foods, Thompson Trading and Coca Cola.
Rubis, the title sponsor of the event, provided REACH branded backpacks that contained a REACH T-shirt, water bottle and other paraphernalia.
"We understand the challenges that parents face with limited resources and that outcomes can improve with early intervention. We support REACH in creating a national awareness and acceptance of Autism," said Latia Duncombe, sales and marketing manager for Rubis Bahamas Limited. "Rubis is committed to supporting social and educational development in the Bahamas."
Rubis has provided substantial support to REACH for several years. Their financial support was instrumental in completing renovations to the Resource Room at REACH's headquarters on the Queen's College campus, Village Road. Now completed, the Resource Room - outfitted with tools and equipment to help children affected by ASD with their developmental needs - serves as a functional space for much needed therapy.
REACH's first raffle was held immediately following the fun run/walk. Fifteen prizes were raffled off, including island getaways, dinners for two and the grand prize of one year's free gas donated by Rubis. Raffle winners will be published in the daily newspapers and winners will have until June 30 to collect their prizes from the REACH office, located on the Queen's College Campus.
There is no medical treatment for ASD, however, research has shown that early intervention and appropriate education and vocation training provide children with ASD the best chance at meeting their full potential. Access to screening and therapy is critical and, unfortunately, many parents with special needs children simply do not have the financial means to undertake.
"Funding and access to trained therapists are the greatest challenges for REACH because it hampers our efforts to assist children with ASD," said Ms Newball.
The public can assist by donating resources - both monetary and in-kind - as well as by volunteering their time to REACH programmes.
REACH holds periodic training sessions for volunteers who would like to help. Interested persons can call the REACH office at 328-4123 or e-mail reachautismbahamas@yahoo.com. Financial donations can be made at any branch of Scotiabank to account number 591054546160 or physically dropped off at the REACH office.