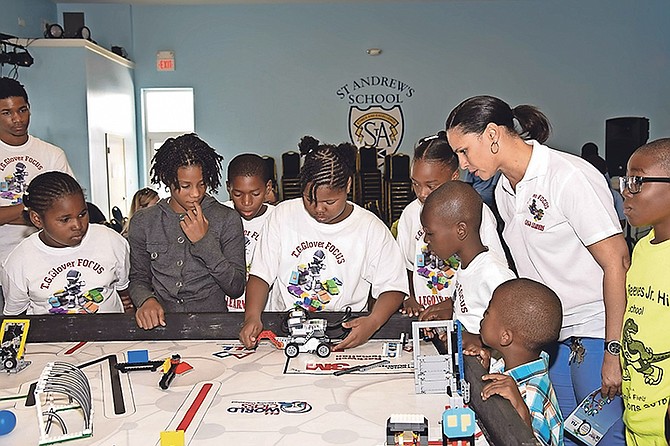 By ALESHA CADET
Tribune Features Reporter
acadet@tribunemedia.net
FOR LAURENA Finlayson, working with children is a very special and fulfilling experience.
In fact, she is so passionate about kids that she pursued graduate studies in education, with a focus on elementary education, and can now boast a 15-year career in the field. Adding her entrepreneurial skills into the mix, Laurena established the Bahamas' FIRST LEGO League (FLL) Challenge - a local chapter of the FIRST LEGO League which was founded by Dean Kamen in 1998 to encourage children to design, construct, and programme their own intelligent inventions. This allows them not only to understand technology, but to become masters of it.
"For the most part, children are like sponges, they are ready to absorb all you have to give them. They rarely come with pre-conceived notions," Ms Finlayson told Tribune Woman.
"It's a wonderful feeling to be able to see the light bulbs go off in children when they grasp a concept and sometimes even help you as the teacher develop it further. Helping children find themselves and bring out their individual gifts is also a positive feeling. I believe this is one of the greatest feelings that a teacher can experience."
As the director of the Bahamas FLL Challenge and the local ambassador for FIRST, Ms Finlayson said the the positive impact that FLL has on students worldwide is rewarding and well documented ,with over 88 per cent of participants having to be shown more interested in doing well in school, and 87 per cent having more interest in attending college.
"It is basically the same for those students that participate here. If you speak with the local coaches you will learn that the students that participate have had an increase in math and literacy skills. They are also more interested in science and mathematics. One young female student said recently, 'I can be an astronaut.' We need to open the minds of students more to STEM (science, technology, engineering and mathematics) subjects. Based upon the positive impact on students, we believe that there is a growing positive impact on the community," said Ms Finlayson.
An event that falls under the Bahamas' FLL Challenge is the yearly tournament. This year, made the fifth consecutive year that Ms Finlayson hosted the tournament.
The tournaments offered by FIRST are: FLL Jr for kindergarten to grade 3; FLL for grades 4 to 8, FIRST Tech Challenge for grades 7 - 10 and FIRST Robotics for grades 8 - 12.
In preparation for the tournament, Ms Finlayson said teams are required to: research challenges facing today's scientists (the challenge changes every season); design, build, test and programme robots using LEGO MINDSTORMS technology; apply real-world math and science concepts; learn critical thinking, team-building, and presentation skills; participate in tournaments and celebrations, and understand and practice gracious professionalism.
"I am proud to have had the opportunity to bring FIRST to the Bahamas. The first time I experienced FLL was at a LEGO Ideas Conference in Denmark. I immediately knew that we, the Bahamas, would benefit from this initiative. We have so many varied learners in our classrooms. This tournament caters to all of them. It is especially gratifying when I see that the children are learning and having fun in the process. I am excited about the potential FLL has to grow and make a difference for our students," said Ms Finlayson.
Going forward it is her goal to bring FIRST to all primary and high schools in the Bahamas. She would also like to offer scholarships to high school students who have participated in the tournaments and wish to major in any of the STEM subjects.