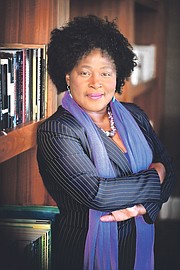 First Bahamian Rhodes Scholar Dr Desiree Cox to be honoured by Oxford University as a thought leader in global health and education.
Dr Desiree Cox, MD, PhD, will be among six Oxford University alumni whose photographic portraits will hang in the great hall at Pembroke College, Oxford University.
These select alumni are persons whom the governing body and art committee of Pembroke College have determined are distinguishing themselves in their respective professional fields, are thought leaders, have achieved prominence in the public eye, and especially through focusing their expertise on social impact. These six photographic portraits will be unveiled in September.
Notable alumni of Pembroke College from the past include Samuel Johnson (1728), writer and inventor of the dictionary; Sir William Blackstone (1738), judge and politician; John Moore (1745), Archbishop of Canterbury; James Smithson (1782), founding donor of the Smithsonian Institution; Senator J William Fulbright (1925), founder of the Fulbright Scholarship; Patrick Pichette (1987), former senior vice president and CFO of Google Inc, and Viktor Orbán (1989), Prime Minister of Hungary.
Other notable Pembrokians include Sir Roger Bannister former master (head) of Pembroke College, physician and academic who was the first person to run the mile in under four minutes; the famous author of 'The Lord of the Rings' trilogy, JRR Tolkien, who was a professor of Anglo-Saxon and fellow of Pembroke College (1925-45), and the philosopher and archaeologist RG Collingwood (1912), who was a fellow of Pembroke College between 1912 and1935.
As part of this honour, Dr Cox was invited to deliver a public lecture at Oxford University on June 3. The lecture, which was delivered to a packed hall at the Pichette Auditorium at Pembroke College, was extremely well received.
"It's one of the best and most interesting and inspiring lectures of this erudite story-telling style that I have ever heard," said Dr Andrew Seton, fellow and director of Strategic Development at Pembroke College.
"Dr Cox is a true Renaissance woman whose achievements does Pembroke proud," remarked Dame Lynne Brindley, master of Pembroke College.
"You managed to integrate interesting and thought-provoking information content with masterful story-telling," commented a former British Broadcasting Corporation reporter also present at the lecture.
"I learned so much,' one medical student told Dr Cox. 'There's so much I want to do in the world and your thought-provoking talk gave me insights on how to achieve my goals."
Born in Nassau, Dr Cox is the daughter of James and Ena-Mae Cox, and the eldest of two daughters. She graduated from Queen's College in 1982. After receiving her BSc Hons from McGill University, Montreal, Canada, she went on to become the first Bahamian and the first female from the British Caribbean to be named a Rhodes Scholar. She studied medicine at Oxford University. After training to become a medical doctor at Oxford, she went on to obtain a Masters of Philosophy and PhD from Cambridge University.
Throughout her career, she has introduced creativity in all aspects of her work. "Creativity and curiosity are fundamental to health and well-being," said Dr Cox.
Over the past two decades of her academic career, she has been a champion for people of all walks of life living up to their full potential.
"As the world becomes increasingly complex and technology causes disruption globally in industries such as health, transportation, labour and education, it will be crucial for people of all ages and walks of life to learn to tap into their natural talents and use their unique gifts and critical thinking skills to navigate their way in the job market," she said.
Critical thinking, science, research, music and art have played equal roles in her contributions to health and education both in the United Kingdom and the Bahamas. Dr Cox said she has developed a unique ability to understand people, to intuit their needs and areas of giftedness, and has turned this into a working methodology that allows her to help people discover and develop their special abilities and talents.
Dr Cox is a published author and singer as well as the recipient of numerous awards and grants. She has been a university professor, an honorary professor of Creativity and Health at University of Exeter, and a consultant to the government of the Bahamas.
In 2013, she was memorialised on a commemorative stamp, and this January she was inducted into the Queens' College Hall of Fame on the merit of her outstanding achievement as an alumnus and on her historical national achievement as the first Rhodes Scholar in the Bahamas.
Dr Cox has lived and worked in the UK and the Bahamas, and was one of the architects of the original Urban Renewal initiative in 2002.
For the past three years, Dr Cox has been spearheading the development of the stem cell industry in the Bahamas.
In addition to being director of the Stem Cell Secretariat and acting chair of the National Stem Cell Ethics Committee (NSCEC), Dr Cox has also been piloting research in the implementation of telemedicine and tele-health and modernising the healthcare system in the Bahamas. "
"The stem cell and regenerative medicine industry has extraordinary potential for job creation in health and medical tourism and for diversification of the Bahamian economy," said Dr Cox. "However, to realise this potential it is important to create a regulatory system and governance structure that ensures that stem cell research and therapy delivered to patients in the Bahamas is safe, ethical and efficacious."
Her focus since the establishment of laws governing the stem cell industry in the Bahamas (2013 Stem Cell Act and 2014 Stem Cell Regulations) has been to develop a regulatory system that is adaptive and inclusive.
The Stem Cell Secretariat and National Stem Cell Ethics Committee Policies and Procedures (2017) allow for equitable participation of a wide range of stakeholders in the formal and societal governance of the industry.
With the mentorship of Chief Medical Officer Dr Glen Beneby and the support of the administrator of the Stem Cell Secretariat, Michelle Meronard, Dr Cox said: "We need to ensure that Bahamians have a fair chance to participate in shaping this industry. That is why we have a multidisciplinary group of Bahamians – biomedical scientists, physicians, nurses, representatives from education, healthcare, pharmacy, theologians, ethicists, people with medico-legal expertise – as well as international experts involved in ensuring that with principles of justice and individual rights are enforced, and that we are vigilant in monitoring and evaluation and quality and standards of the industry."
"Smart is the new sexy," Dr Cox told high school girls from all over the Bahamas at the URCA 'Girls in Technology' day held at the Meliá Nassau Beach Resort in April this year.
"There is no point telling young people to do well in school and get a good education without creating the intellectual, cultural and economic environment and job opportunities for them to thrive in the Bahamas," she said. "That is why I am so passionate about creating a system for advancements in new paradigm or 'next-generation' medicine in the Bahamas and platforms that reduce health and social inequities. We need to change the conversation about health, globally and locally. Health is a complex field that requires diverse communities taking action on many fronts."
When asked what she wants to be known for, Dr Cox said: "I want to help to change the conversation about health. Health is not something to be found doctors' offices, healthcare centres or hospitals. Approximately 80 per cent of individual and community health and well-being is shaped by where we live, our employment, race/ethnicity, gender, religious and spiritual beliefs, educational level, socio-economical class and social mobility.
"With the rapid advancement of technology, I believe, that creativity, curiosity and critical thinking skills will increasingly be fundamental to health and well-being of our people. I also believe that education equals empowerment. By education, I do not just mean facts learned in the classroom, but the outcomes of education, namely knowledge, skills, opportunity, gender equity, social inclusion and ability to shape the course of your life, and flourish in life. I have always tried to live my truth, and most importantly, to create systems and platforms that empower people to use their unique gifts and achieve their full potential."