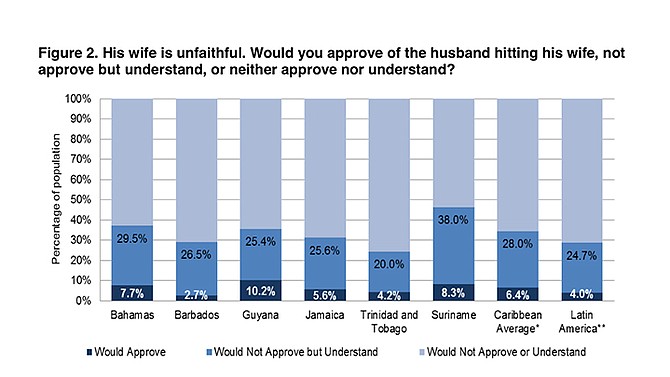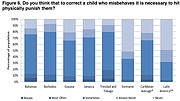 By KHRISNA VIRGIL
Deputy Chief Reporter
kvirgil@tribunemedia.net 
THE Bahamas ranked high among countries in the Caribbean that have tolerance or understanding for hitting women or correcting children with physical punishment, according to an Inter-American Development Bank  study.
The data is detailed in the report "How safe are Caribbean Homes for Women and Children? - Attitudes toward Intimate Partner Violence and Corporal Punishment." 
When asked if they would approve of a husband hitting a wife who is unfaithful, 7.7 per cent of Bahamians surveyed said they would approve while 29.5 per cent said they would not approve, but understand. 
However, when asked if they approved of a husband hitting his wife if she neglected household chores, only 2.4 per cent of Bahamians surveyed said they would approve while 20.5 per cent said they would not approve but understand, the report released in December 2016 said.
It also noted: "Tolerance for hitting a woman is higher if she is unfaithful; one in three Caribbean residents would approve or understand—39 per cent of men and 30 per cent of women—in this scenario.
"Acceptance is highest in Suriname where nearly half, 46.5 per cent, of adults would approve of or understand hitting a woman under these circumstances. Again, Caribbean adults were significantly more likely than were Latin Americans to tolerate violence against women if she is unfaithful, 5.7 percentage-point difference. Outright approval was highest in Guyana, 10.2 per cent, Suriname, 8.3 per cent, and The Bahamas, 7.7 per cent."
Other countries included in the study included Barbados, Jamaica, Trinidad and Tobago and Latin America.
In response to the question of whether to correct a child who misbehaves was it necessary to hit or physically punish a child, more than 70 per cent of Bahamians said it was "always" or "most often" or "sometimes" necessary.
Nearly 80 per cent of Bahamians said they had "always," "most often" or "sometimes" been hit or physically punished as a child to correct bad behaviour. 
The report said the impact of violence on different gender groups (men, women, boys, and girls) is still understudied particularly in contexts—such as those of many Caribbean countries— characterised by high levels of urban violence. In these contexts, emphasis is often placed on homicide and violent criminal activity, which have predominantly male victims.
However, women and children suffer disproportionately from different kinds of violence than adult men—including intimate partner violence (IPV), sexual violence, family violence, and child abuse, the report said.
It also noted that nearly one in three women in the Latin America and the Caribbean (LAC) region will experience violence in her lifetime, typically at the hands of an intimate partner.
The report is available on the IDB's website.