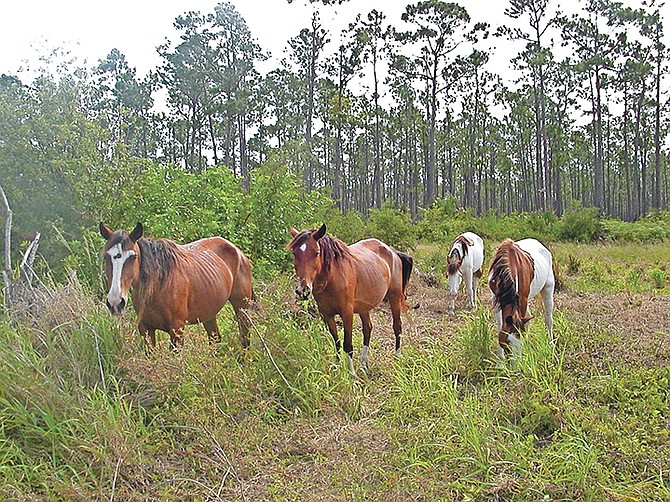 ON April 4, the government approved a proposal to restore life to an extinct sub-breed of Spanish horses through cloning, according to a press release from the Wild Horses of Abaco Preservation Society (WHOA).
The WHOA said government approval of the proposal to initiate the cloning process and to bring the horses back to Abaco enables it and another group, Arkwild Inc -- a charity in the US -- to begin major fundraising to make the restoration a reality by restoring the horses' preserve to excellent condition prior to the arrival of the clones.
"The Abaco island horses thrived on the island of Abaco...when they were imported in the late 1800s," the press release noted. "Human intrusions and an increasingly toxic environment led to a decline. A 25-year effort to save the horses ended on July 23, 2015 when the last mare died.
"Living tissue was saved from that last mare and in a dramatic series of events --worthy of an international suspense thriller -- the tissue was airlifted to the US where ViaGen, a Texas firm engaged in cloning, found the cells viable and nurtured enough to clone two mares.
"Pro bono services valued at close to $2m have been pledged to the cloning effort by companies and individuals in the US."
The group also explained its plans for the horses' preserve.
"Along with the dramatic restoration of the herd, the horses' preserve will become a showcase for equine assisted therapy, alternative energy systems, ecotourism and many related activities consistent with UN (United Nations) sustainable development goals.
"In an environment that is unique in the world, a unique horse once again will roam the pine forests of Abaco, 200 miles out at sea.
"Genetically unique after over a hundred years of isolation on Abaco, the Abaco horses were direct descendants of the distinctive horses of the Conquistadores who led the first major forays into the 'New World.' Those June 12, 2017 horses could best be described as 'Jeeps,' being tough, steady, sturdy and needing far less water and feed than standard domestic horses," the preservation society noted.