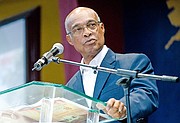 By RASHAD ROLLE
Tribune Staff Reporter
rrolle@tribunemedia.net
DURING its term, the Christie administration invested some $30m in school properties the government does not own and may "probably never own," according to Education Minister Jeffrey Lloyd.
He said $25.7m of that "involves a premises which previously housed the Seventh-Day Adventist Bahamas Academy on Wulff Road".
"About three years ago, the previous government entered into an agreement with the Seventh-Day Adventists for the possible lease of the land to relocate BTVI," Mr Lloyd said. "The proposed cost of such an act was pegged at $1m. Over time, things changed and the costs ballooned to $8m, scrapping the idea of a BTVI relocation and other ideas emerging. At this moment, the government is under contract for $25.7m, with an agreement to lease the said property for five years at a cost of $60,000 per annum. This is a significant sore point. We must ask the question, who would have driven the decision making in that process?"
Mr Lloyd said he is seeking permission from the government to have a "forensic, engineering and construction audit" take place for projects in his ministry to ensure Bahamians are getting value for their money.
His revelation came in the House of Assembly yesterday, as the South Beach MP painted a dire picture of the state of the public education system, including inadequate infrastructure and overstaffing in some areas.
Mr Lloyd also said that at least seven public schools in The Bahamas need to be replaced, as he also condemned the overcrowded nature of some government schools.
The schools that need to be replaced include Government High School, SC McPherson, CW Sawyer, RM Bailey, LW Young, Martin Town Primary School in Grand Bahama, and LN Coakley in Exuma.
New schools are needed throughout the country, Mr Lloyd said.
In southwest New Providence, primary schools like Sadie Curtis, Garvin Tynes and Cleveland Eneas are "50 to 60 per cent overcrowded," he said, as they have "nine hundred to 1,000 students when they are only built for 650".
Of the 270 buildings managed by the Ministry of Education, 173 are school properties.
"It is no stretch to state that the physical plant of the Ministry of Education is in dire straits," Mr Lloyd said in the House of Assembly.
Uriah McPhee and Stephen Dillet have proven particularly problematic over the years, with Mr Lloyd noting they suffer a "recurring nightmare of all kinds of maintenance issues which drain human and financial resources, and limit the capacity of the institution to do what it was built for."
"Almost on a routine basis, children at either Stephen Dillet or Uriah must be sent home for some reason of the buildings malfunctioning," he said.