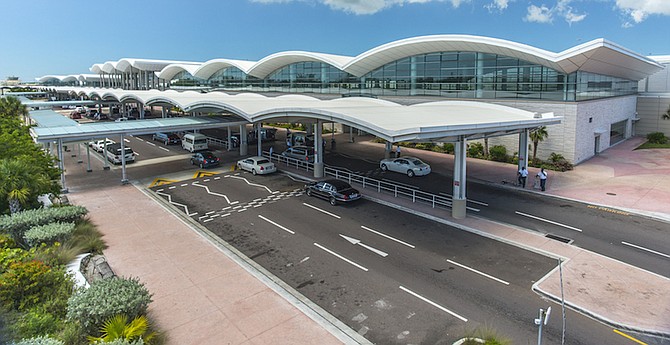 By KHRISNA VIRGIL
Deputy Chief Reporter
kvirgil@tribunemedia.net
THE Nassau Airport Development Company Ltd's Board of Directors did not face interference from any politician nor was it compelled by political pressure under the former Christie administration to discount a Lynden Pindling International Airport tenant $1.2m in rental debt, according to former NAD Chairman Anthony McKinney, QC.
In a frank and lengthy interview with The Tribune Friday, Mr McKinney said he took issue that Tourism Minister Dionisio D'Agulair intimated that there was malfeasance on the part of the Board.
Branding the minister's claims "troubling" and "irresponsible", he suggested that had the comments not been cloaked by parliamentary privilege, legal action may have followed.
He further rejected any suggestion that the board was fired by the Free National Movement government, but instead provided letters to this newspaper showing his resignation with immediate effect on June 8, 2017.
The Tribune has learned that Patmor Holdings Ltd and its owner Patricia Mortimer is at he heart of this controversy.
The attorney stressed that the $1.2m "discount" was among other conditions that were concluded following an audit by Kikivarakis & Co. It was the result of a lengthy discrepancy that also took into account other factors of Patmor's lease.
Mr McKinney's rebuke comes after the minister told the House of Assembly Thursday night that a tenant who operated five stores at the Lynden Pindling International Airport racked up a rental debt over five years of more than $3m under the Christie administration.
At Parliament, Mr D'Aguilar asserted that she was allowed to remain delinquent due to "direct intervention by the political directorate".
Even worse, he claimed that the tenant approached the NAD board of directors two months before the general election and was allowed to enter into an agreement to "write off" $1.2m of this debt on the condition that she give up one store and pay her balance.
While outlining what he suggested was a personal favour extended to the tenant because she was well-connected politically, Mr D'Aguilar questioned why the woman was not evicted from the airport despite five years of not paying rent.
He explained that this was the reason NAD's board was dismissed shortly after the FNM won the May 10 general election.
Million-dollar discount
According to Mr McKinney when the new NAD Board of Directors was appointed in 2012, Patmore was already in arrears of $1.2m. He suggested that some of this was due to the original tenant who had a financial arrangement but was unable to honour its terms.
As a result, he said Mrs Mortimer expended considerable sums of monies to ready the leased areas for the opening of the terminal.
He said she also voiced discrepancies that her rental fees were disproportionate to other tenants – Mrs Mortimer's at between 12 per cent and 14.6 per cent and other tenants at 10 per cent.
The matter came to a head in 2015, Mr McKinney recalled, when the board tried to negotiate a reasonable settlement of the arrears having regard to the fact that there were certain things concerning NAD that were not up to standard.
NAD had promised a certain percentage increase of pass through passengers, but this fell through as Baha Mar did not open as was expected.
He said: "I must now segregate the board from the management of NAD. There were discussions and it was determined by the board that there was a need for an independent audit because Patmor was always challenging the number and saying she was being overcharged and so we determined that it would be best if some independent body looked over the overall problem and see if there was any merit in her position.
"In 2015 it was agreed by NAD, the management, that it would refer the matter of the arrears to its attorneys Higgs & Johnson. Higgs and Johnson then referred it to Kikivarakis & Co to do an audit of the rentals and make suggestions as to best resolve the impasse over what Patmor argued.
"Sometime in 2016 the latter part, it was agreed that the best formula to solving the problem (it was agreed) Patmor would be given a discount of $1.2m and the balance (of) $800,000 be paid within 30days of signing an agreement of settlement. Thereafter a certain amount would be paid on a monthly basis to reduce the arrears and on top of that the company was to give up one of the stores in Terminal C, namely the downstairs area that it had."
Asked if this in anyway correlated to the May 10th general election, Mr McKinney said: "The agreement was signed from in March of 2017," adding that its terms were completed from 2016.
He continued: "I believe he is most irresponsible without at least having the courtesy of giving me a call.
"I am not that aloof. If he had some concerns he ought to have asked me what was my side of it and I would have been just as up front and frank as I am with you. But he is the minister and I technically have no objections with speaking with the minister of the Airport Authority."
"Not the slightest interaction with me," he said when asked if there had been a meeting with the minister prior to shocking revelations in the House of Assembly.
"In my opinion he is not behaving as a minister ought to behave. He ought to have had the courtesy to extend to me and my board a group of persons who worked for five years in the public service.
"They could never compensate me for the time I spent and the work I did as the chairman of those two boards. Every morning I came in my office I had a multitude of emails, which I had to deal with and put my personal work on the side."
"I think he owes me and he owed the board the courtesy of asking the question 'Did this happen that in the slightest would not pass the smell test of having the potentiality of malfeasance?'."
"It has none of that," he said.