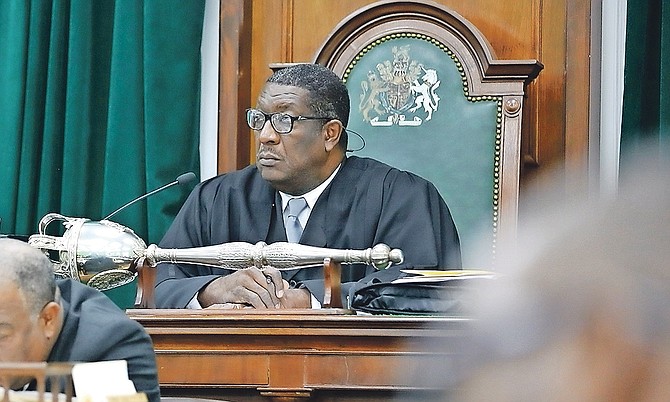 By RASHAD ROLLE
Tribune Staff Reporter
rrolle@tribunemedia.net
HOUSE Speaker Halson Moultrie said yesterday he is not pleased with the general conduct of some parliamentarians in the House of Assembly. He urged members to abide by House rules as questions remain about what MPs will be allowed to say in Parliament without tabling proof of their claims.
A row erupted last Thursday when Tourism Minister Dionisio D'Aguilar claimed that the board of the Nassau Airport Development (NAD) was fired after he learned that the "political directorate" instructed the board not to pursue millions owed by a tenant.
Mr D'Aguilar provided no evidence to substantiate his controversial claim, and although members of the Official Opposition raised objections to the allegations, House Deputy Speaker Donald Saunders allowed his comments to remain on the record.
Anthony McKinney, the former chairman of the board of NAD, has since said he would take legal action against the minister if he were to repeat the comments outside Parliament where he won't be protected with parliamentary privilege.
Mr Moultrie did not address this incident directly yesterday, but in a likely reference to the row that erupted last week in his absence, he said he favours "exposure and disclosure" of information.
"Within the rules, the chair will permit members to speak and to have freedom of expression," he said. "No attempt will be made by the chair to cause information that the public should be entitled to, to be suppressed. This is the freedom of information age. It is the chair's position that it will permit, whether it be from the government or opposition side, exposure and disclosure."
Mr Moultrie also said he watched House proceedings on TV last Thursday to see how those proceedings were playing out.
"I can say that I wasn't pleased with what I saw and as a consequence the chair has made a decision to enforce the rules…" he said.
"The Jack-in-the-box like point of order and point of privilege, pop up activity designed more to interrupt a member, refute, dispute and impute shall not be tolerated and shall be blocked pursuant to the provisions of Rule 33 (27) and Rule 88," he added.
This reference was likely to Official Opposition member Englerston MP Glenys Hanna Martin who repeatedly interrupted Mr D'Aguilar during his contribution on Thursday.