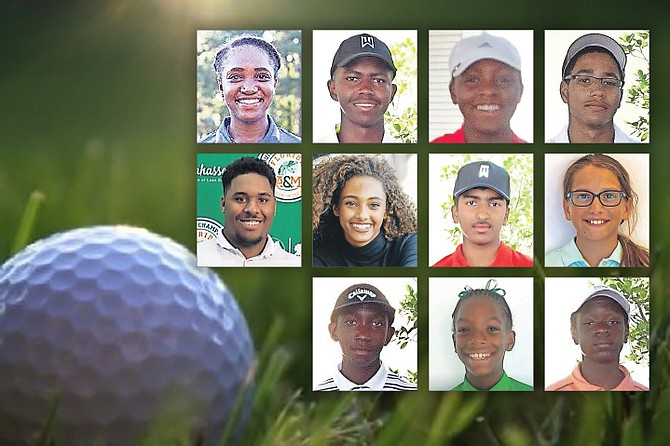 By RENALDO DORSETT
Tribune Sports Reporter
rdorsett@tribunemedia.net
Team Bahamas is set to face off against the best junior golfers from around the Caribbean at the region's most prestigious event.
An 11-member team will represent the Bahamas at the 2017 Caribbean Amateur Junior Golf Championships, which is slated to be hosted July 2-7 at the St Andrews Golf Club in Maraval, Trinidad and Tobago.
A roster of six boys and five girls will contest the tournament and look to improve on last year's sixth-place finish.
The girls' team is made up of Inecia Rolle (18), Ashley Michel (14), Haylie Turnquest (14), Sophie Anand (13) and Tyesha Tynes (11). The boys' list has Cameron Riley (17), Xavier Robinson (16), Aharon Bastian (18), Saketh Hedge (14), Javonte Pinder (13) and Lexander Antoine (13).
Teams arrive Sunday, July 2 and after practice rounds and the opening ceremony on Monday, first round play begins July 4.
The best finish for the Bahamas came from Haylie Turnquest in the girls' 15-and-under division.The Bahamas' junior national champion for her age group finished second in her division and No.19 overall. She closed out the competition in the girls' 15-and-under with a final round of 78 after she shot a second round 79. She also shot an opening round 78 on day one for a score of 235.
Riley will serve as the team captain for this year's group. Currently a freshman at Florida A&M University, this past season Riley was named Rookie Player of the Year.
At last year's event, he was the next best finisher for Team Bahamas behind Turnquest, 29th overall and 10th in the boys' 17-and-under division.
Riley closed out the competition with identical rounds of 80 on day two and three. They followed an opening round 88 for a score of 248. "Being able to do what I love is great but being able to do it for my country makes it even more astounding and a hundred times more prideful," he said.
Rolle, a current freshman at Chowan University and a veteran junior national golfer, is also the BGF's national women's champion. She finished 7th in the girls' 17-and-under division last year with a total of 254.
"I promote the Bahamas in all that I do and I believe that I set a great example for my younger teammates," she said. "I am excited about this year's championships and to score well."
Robinson is the 2017 Bahamas junior national boys' champion and is a member of the Bahamia Country Club. This will be his sixth appearance representing the Bahamas at the CAJGC tournament.He finished with a score of 261, No. 15 in the boys' 15-and-under division.
Anand returns to make her second appearance as a member of Team Bahamas and will also look to better her third place finish from last year's CAJGC in the girls' 11-13 division when she finished with a three-day total of 258.
She is the current Albany Women's Club champion, Bahamas junior national girls' under-13 champion and HJGT tour member.
Also in the girls' 11-13 division, Michel will make her fourth appearance at the CAJGC and finished in eighth place with a score of 314.
Four members of the team - Tynes, Antoine, Pinder and Hedge - will all be making their CAJGC debut.
Hedge is the reigning boys' under-15 national champion. "I understand the huge responsibility with being selected to the Bahamas junior national golf team and I am confident that I will justify my place on the team," he said.
Pinder is the reigning boys' under-13 national champion.
As previously mentioned, the Bahamas' eight-member team finished sixth last year at the 29th edition of the CAJGC, hosted in Christ Church, Barbados.
Puerto Rico led the field from start to finish and claimed their ninth consecutive title. They were followed by Jamaica who moved up to second from a fourth-place finish last year.
The Bahamas finished fifth in 2015 at the 28th edition of the CAJGC, hosted in St Croix, US Virgin Islands. The eight-member team finished with a total of 77 points following the three-day competition at the Carambola Golf and Country Club.
The Bahamas finished fourth in the previous two editions of the event. In 2014, the Bahamas scored a total of 92 points, behind Puerto Rico (161), Dominican Republic (136), and Trinidad and Tobago (121).
In 2013, the Bahamas finished fourth with a score of 118 behind first place Puerto Rico with 151, the Dominican Republic with 139 and Trinidad and Tobago with 135 at the North Sound Golf Club, Cayman Islands.
The championships are played annually and are rotated amongst the members of The Caribbean Golf Association.
This team event, first played in Puerto Rico in 1988, is played over 54 holes in three divisions for boys and girls aged 10-17 years.