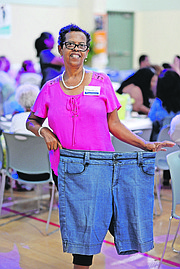 By ALESHA CADET
Tribune Features Reporter
acadet@tribunemedia.net
The Weight Watchers brand is making great strides in the Bahamas, having recently launched its "Healthy Weight Movement" initiative here in Nassau.
Held at the New Providence Community Church last Saturday, the launch event saw scores of Bahamians come out learn more about what the organisation has to offer.
Highlights included presentations by Weight Watchers Bahamas President Lydia Ferguson and Dr Francis
Williams a success panel by seven members who have lost over 350lbs while on Weight Waters, a Q&A, blood pressure and glucose testing by the Walk-in-Clinic; a cooking demonstration and food tasting by Chef Teddi Production, and more.
"The event was hosted to give hope to thousands of overweight persons who dream of losing weight. To get persons to join the Weight Watchers and experience our scientifically-based food, fitness, support and change of mindset approaches which lead to long-term weight loss and healthy lifestyle," Ms Ferguson told Tribune Health.
Growing up as a frustrated overweight child in Ghana, West Africa, Ms Ferguson took the opportunity to lose weight while studying law in England. She joined the Weight Watchers programme in 1977, and since then the topic of weight loss has played a pivotal role in her life.
"I met my husband Arnold Ferguson in college, and when I moved to the Bahamas in 1980 I realised we had a national problem with obesity. The idea to bring Weight Watchers to the Bahamas came when I was working as one of the lawyers at the Attorney General's Office in 1988. Nine months after having my second child my weight forced me to go to court in a maternity dress when I was not pregnant. That became the last straw that broke the camel back. I saw the need for me to help myself and help a lot of overweight people in the Bahamas lose weight by bringing Weight Watchers to the Bahamas," said Ms Ferguson.
Having operated as the only black Weight Watchers franchise owner over the years, Ms Ferguson is responsible for conducting the necessary research and provision of information to include Bahamian dishes on the Weight Watchers international food list.
"I feel responsible to help to make a difference toward the National Health Insurance by helping more people lose weight and reduce the cost of dealing with non-communicable illnesses such as high blood pressure, diabetes, heart disease and even some form of cancers. A healthier Bahamas will certainly be a wealthier Bahamas for all of us," said Ms Ferguson.
Going forward, it is the group's hope to encourage overweight persons to seek help via Weight Watchers Bahamas in an effort to accomplish long- term weight loss, put a stop to dieting and encourage a pursuit of healthy lifestyles.