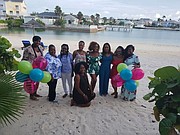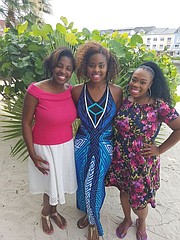 By JEFFARAH GIBSON
Tribune Features Writer
jgibson@tribunemedia.net
ANOTHER year, another successful retreat for motivational speaker and success coach Sharell Carroll, who continued to help women let their guard down while they recharged and refocused on their personal goals.

During the recent 'Activate Retreat' at Sandyport, participants were given strategies on developing a winning mindset, succeeding in their personal and professional life, managing time to achieve maximised results, overcoming self-sabotage and rejection, as well as transforming pain into fuel for one's purpose. Dr Lorneka Joseph was a special guest speaker during the retreat.
Held every June, the aim of the retreat is to help rejuvenate, refresh and activate participants.
"We spent a weekend looking at and developing a winning mindset, things to avoid, what things to release from our past. We also spent time looking at how to succeed in our personal and professional life really balancing both and doing the activities and things that will lead to the goals we want to accomplish in life," Sharell told Tribune Weekend.
'Activate' was designed by Sharell to be a retreat where women can let down their guard, take off their make-up, be transparent and be healed at the same time.
"I decided to host the event because I realise that women are very busy and oftentimes we don't take an opportunity to refill and refuel on a daily basis. In addition to that I wanted them to be able to see themselves in a new light - which is where the renewed mind comes into play - and they are able to understand how deeply loved they are by our Father," she said.
"They also learned business tips, ways to start their business and to maximise their time. Dr Lorneka Joseph was our international speaker and coach along with myself. She led another session related to overcoming self-sabotage and rejection, and that dug deep into some things in the past. So the ladies received a goal activation kit, one-on-one coaching in an intimate setting. We had a session by the pool along with lunch and a gift bag."
What stood out most, Sharell said, was the way the women were accepting of her coaching and experience. As a result, they were also inspired to share their own stories.
"A lot of people said the winning mindset and overcoming rejection were two things that stood out most to them. They also particularly enjoyed the outdoor devotions that we had on the Sunday morning. And you know it was just something different. Women are tired of the conference style, super formal setting, but this one offered them an opportunity to let their hair down and see themselves in a different light," she said.
One of the most important things for Sharell when it comes to hosting the retreat is supplying participants with tools that they can apply to their lives.
"They received action items, so at the end of the day it wasn't just a feel-good session. I asked them to write down three things that they will start doing that will help them to meet their goals, three things they would stop doing immediately, and things that they can incorporate so that they can be much more successful," she said.