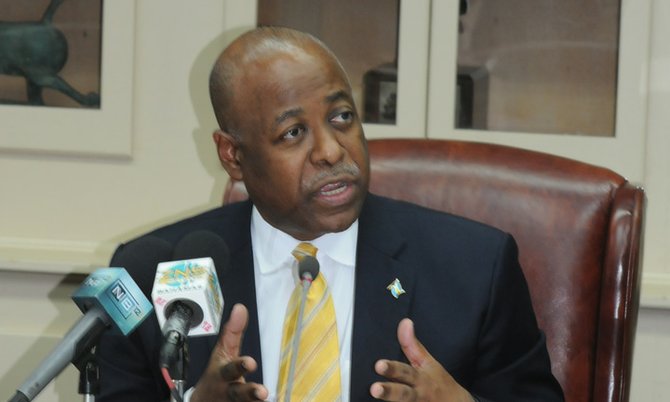 By RASHAD ROLLE
Tribune Staff Reporter
rrolle@tribunemedia.net
TOURISM Minister Obie Wilchcombe announced in a statement yesterday that the government has decided to limit the number of gaming house operator licenses granted in The Bahamas to eight, a number that will be reviewed after a ten-year period.
Web shop bosses, who form the Gaming House Operators Association, advocated for this, urging the government to place a moratorium on the granting of new operator licenses out of concern that the industry would otherwise become saturated.
Mr Wilchcombe compared the government's decision to the restriction on the number of casino operations allowed in New Providence and Grand Bahama.
However, the restriction does not prevent the minister from issuing a request for proposal (RFP) for a gaming house operator license in the event that an existing operator loses its license for some reason.
Importantly, no such moratorium has been placed on the number of web shop houses that will be allowed to exist in the country or on the number of such houses each operator will be allowed to have.
This allows the Gaming Board and the government to have the flexibility to "react appropriately to the development of the industry," Mr Wilchcombe said.
Some operators, like FML Group of Companies CEO Craig Flowers, had encouraged the government to impose restrictions on how many number houses each licensed operator is allowed to have.
A restriction on gaming house operator licenses "will not preclude the Gaming Board from issuing another RFP in the context of gaming house premises licenses," Mr Wilchcombe said yesterday. "It thus will remain open to existing industry stakeholders to apply for further gaming house premises licenses during the stipulated period if another RFP, inviting applications for gaming house premises licenses, is issued by the (Gaming) Board during that time.
"If it appears that the market is adequately served by the number of distribution of existing licensed locations, then no RFP for gaming house premises licenses will be issued during the relevant period, whereas if there is an objective need for the licensing of premises (whether in general or in particular areas), then an RFP may be issued inviting applications."
Zoning
A key objective of the newly released regulations on gaming house premises licenses is to minimise negatives impacts on communities as well as negative impacts on the objectives and activities of places of worship, schools, premises where video or similar games may be played by people, or premises at which pensions or welfare payments are collected.
The regulations say that no gaming house can be located "immediately adjacent, at any property line, to a property whose dominant use is residential, unless zoned to be multi-use (commercial and residential)."
In addition, the regulations say no gaming house can be located "within 100 feet of a place of worship, school, games arcade or premises at which pensions or welfare payments are collected."
Gaming houses can also not be located "within 100 feet of any other licensed gaming house premise, unless the Gaming Board expressly determines there is good cause to conclude that proximity to another licensed gaming house of less than 100 feet does not offend the character of the area in which the premises is located and the need to prevent over-proliferation of gaming house premises in any area."
Web shops will not be required to move if they existed prior to schools and such aforementioned institutions later emerging within 100 feet of them.
Mr Wilchcombe said about 635 web shops existed at the start of the industry's regularisation process. By June 2016, there were 372 such locations that had been licensed, with 31 pending.
"This will result in a total of approximately 403 licensed locations in the country, which equates to a 36.5 per cent reduction in the number of locations that were active at the commencement of the regularisation process.
"It appears that as a result of the compressed timeframes within which the process was required to be completed, at the time the existing gaming house premises and agencies were licensed, it was not possible for the (Gaming) Board to have regard to zoning requirements, as there was a lack of clarity regarding the same," the statement noted.
Nine companies applied for gaming house licenses when the government began to regulate the sector and eight were later provided conditional licenses.
They are Island Luck, Nassau Games, Percy's Island Games, A Sure Win, Chances, Paradise Games, Bahama Dreams and Asue Draw.
However Asue Draw later announced it will not renew its gaming house operator license for 2016-2017.