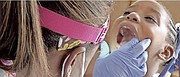 A team of 20 dentists and dental students from the University of Florida, in partnership with the Ministry of Health, the Public Hospitals Authority and the Ministry of Education, is bringing oral healthcare to students in North and Central Andros. The initiative is part of the Adopt an Island programme spearheaded by Dr Mitchell Lockhart, Director of Oral Health at the Ministry of Health, which began in 2014.
According to Mr Lockhart, "what we have done is recruit tertiary dental institutions to assist us in each of the Family Islands. This project in particular was the first one, and it's been on-going for the last three years."
The team, which began seeing students in Andros on Sunday, March 5, is comprised of six professors, 10 students and a few Bahamian dentists who maintain practices in the United States, and has already seen 300 students. Dr Lockhart expects that they will see and serve more than 500 students in North and Central Andros by the end of the week.

According to Michelle Bowleg, Chief District Education Officer, this would account for about 50 per cent of the current student population in the district. The team focuses on oral hygiene education, cleanings and general dentistry for primary school and high school students. The estimated value of the dental services provided total roughly $400,000.
Dr Ronda Moore, faculty member at the University of Florida and practicing paediatric dentist in Gainesville, said the team is very happy with the progress they have seen over the last three years of visiting Andros.

"We are very happy that the community has invited us back so that we can treat the children and serve the community. We have seen a progression between 2014 all the way down to 2017, there's been a great improvement in the oral health of the kids, we're very happy," said Dr Moore.
The Adopt an Island initiative has also run successful programmes on Eleuthera and Bimini.

Dr Lockhart forecasted that based on the success of these programmes to date, he would hope that by next year the initiative would provide up to $1 million in treatment through tertiary partnerships. He stated that the goal of the programme is to partner each Family Island with a tertiary dental institution going forward. He noted that talks are already on-going with Harvard University and with Nova Southeastern University.
Dr Lockhart also acknowledged the partnership and support of the Ministry of Local Government and the administrator, Ivan Ferguson, the Ministry of Tourism and the Ministry of Finance, which authorised the import of the team's equipment and supplies duty free.
Western Air was singled out by Dr Lockhart for their contribution. "Western Air has been so key for us as well, because they allowed us bring in all the overweight equipment and supplies at no charge, so they have been an excellent corporate partner," he said.