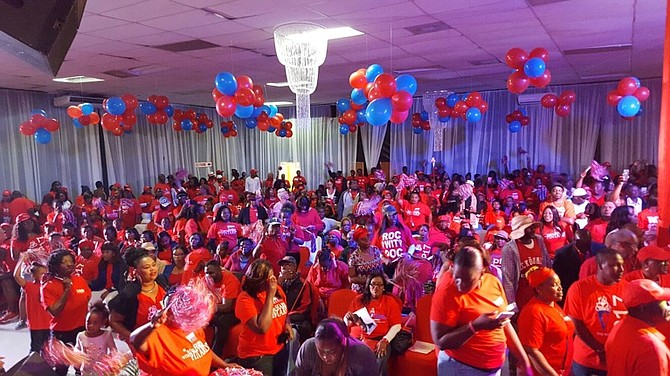 By DENISE MAYCOCK
Tribune Freeport Reporter
dmaycock@tribunemedia.net
FREE NATIONAL Movement (FNM) Leader Dr Hubert Minnis said the Progressive Liberal Party (PLP) government has consistently failed Grand Bahama, the island suffering the most job losses under Prime Minister Perry Christie's administration.
"The PLP under Cotton Candy Christie presided over the loss of more jobs in Grand Bahama than any previous administrations," he told a huge gathering of FNM supporters on Friday night in Freeport. "I know you in Grand Bahama are tired of the broken promises on jobs and our economy."
Dr Minnis said that while Mr Christie brags about spending $100 million in Grand Bahama, little has actually been done in terms of jobs creation.
"Imagine that, $100 million and unemployment still high, the people still suffering; and businesses and hotels still closed; $100 million and little to no hurricane relief. Despite all that big talk very little was actually done."
He stressed that Grand Bahamians are tired of all the broken promises and excuses by Mr Christie and his PLP government. Dr Minnis compared the Prime Minister's speech at the recent Grand Bahama Business Outlook to cotton candy.
"The Prime Minister was brazen enough …in Grand Bahama to once again put together a bunch of words saying absolutely nothing. His speeches are like cotton candy: big, beautiful, colourful, sweet but full of air and lacking substance."
He was referring to an announcement made by Mr Christie about discussions with the prospective buyer about plans for the Grand Lucayan Resort, which has been on the market for some time. Two thirds of the hotels on the island are closed and hundreds of hotel workers are unemployed.

"Cotton candy Christie told you about a conference call that he had with some investors that promised that they are evaluating, considering and contemplating doing some comprehensive things in Grand Bahama. Mr Prime Minister: Just a piece of advice. Your failures now speak so loudly no one is listening to anything you have to say," said Dr Minnis.

The FNM leader highlighted a number of failed investments in Grand Bahama under the PLP, including the massive Ginn development in West End, which he described as a "total failure." He added that after the loss of approximately 1,400 jobs Mr Christie failed to deliver on his promise to reopen the Royal Oasis.
Dr Minnis also noted that the recent closure of the Treasure Bay Casino and Memories Resort on Grand Bahama resulted in the loss of hundreds of more jobs.
The set up of a Ministry of Grand Bahama by Mr Christie is a complete failure, he said. "The PLP consistently, completely and utterly failed Grand Bahama," Dr Minnis said. He said the promise of a new school in West Grand Bahama and a new hospital have not been delivered in the five years the PLP has been in office.

Dr Minnis stated that under an FNM administration they will bring more industry to Grand Bahama as it has done before.
He said the Grand Bahama is FNM country. "We have come to take our country back. Grand Bahama, we are taking all five! We want West End and Bimini! We want Marco City! We want Pineridge! We want Central Grand Bahama, and we want East Grand Bahama," Dr Minnis said.
He thanked Grand Bahamians for their continued overwhelming support of the FNM. The hall was filled to capacity, with an overflow outside the building at the Social Affairs compound off East Sunrise Highway.
FNM candidates for the five Grand Bahama seats all addressed the crowd: Pakesia Edgecombe (West Grand Bahama and Bimini), who was bombarded by supporters on stage; Michael Pintard (Marco City), Fred McAlpine (Pineridge), Iram Lewis (Central Grand Bahama) and sitting MP for East Grand Bahama Peter Turnquest.
Travis Robinson, the young candidate for Bain and Grants Town, also stirred the crowd earlier in the evening.