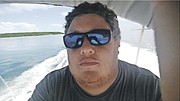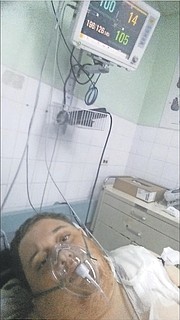 By ALESHA CADET
Tribune Features Reporter
acadet@tribunemedia.net 
Joseph Darville is reaching out to his loved ones and the community at large to help him locate a compatable kidney donor to save his life.
The Grand Bahama native, who used to work in construction, has undergone seven surgeries for acute kidney disease within the last seven months.
The procedures have taken a toll on him, but he said the love and support from family and friends has been enough to keep him going.
Mr Darville, who now resides in Nassau, began having medical issues, including hypertension, three years ago when he was just 27 years old.
He remembers walking into a trauma room at the Princess Margaret Hospital with his blood pressure over 280.
"I remember the nurses saying that this was the first they actually had someone walk into this area. After running further tests it was discovered that I also had some loss of kidney function," he told Tribune Health.
This was just the start of a long ordeal. Mr Darville later returned to PMH with further symptoms, having flown in from the Berry Islands. He was admitted for severe pain. 
"After being evaluated I was then told that I was experiencing kidney failure and my blood was severely toxic and would need dialysis going forward. Since then my life has been changed greatly. In order to receive dialysis, surgeons install ports directly into major arteries of your body which allow them to perform the procedures. On average you need at least three treatments a week to remain healthy. However, sometimes these ports have issues," he explained.
On a recent trip to Cuba for a more extensive evaluation of his condition, he was diagnosed with stage 5 chronic kidney disease. Doctors told him that he will need a kidney transplant in the near future. 
A person with stage 5 chronic kidney disease has end-stage renal disease (ESRD). At this advanced stage of kidney disease, the kidneys have lost nearly all their ability to do their job effectively, and eventually dialysis or a kidney transplant is needed to live.
To help him find a compatible donor, Mr Darville launched a GoFundMe campaign to assist with considerable costs associated with the transplant.
"After going through all of this I would highly urge my fellow Bahamians to please get regular check-ups. I am hopeful that I will find a donor from a family member and hope to raise the funds as soon as possible," he said.
To make a donation visit https://www.gofundme.com/josephs-kidney-transplant-donation.