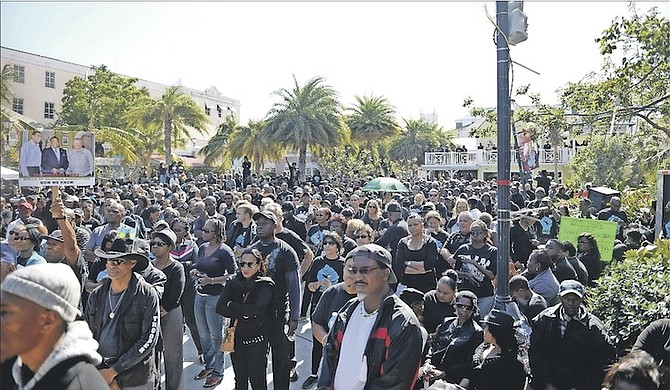 By SANCHESKA DORSETT
Tribune Staff Reporter
sdorsett@tribunemedia.net
BAHAMAS Carnival Band Owners Association (BCBOA) president Dario Tirelli yesterday blasted We March Bahamas organisers for calling for Bahamas Junkanoo Carnival to be postponed less than six weeks before bands hit the streets.
Mr Tirelli told The Tribune if We March insists on protesting Bahamas Junkanoo Carnival, the bands will throw a fete (party) "right where the march ends".
He said he is disappointed that We March organisers did not sit down and talk with the BCBOA, to understand the amount of money that private citizens have invested in the festival.
In fact, Mr Tirelli said the government has done "very little" to assist Carnival bands this year, adding that they have failed to effectively market the event to the world.
"I believe in marketing and sales, so there is no such thing as bad press, so We March is going to help drive the event and let people who may not have known that Carnival is coming. So it will spark the conversation," Mr Tirelli said.
"So its positive in that aspect, but it is negative because it is affecting costume sales. We have people calling from Trindad and other places asking if we are still having a carnival. The bulk of our money is coming from the international market. But if they want to march against Carnival we will throw a fete right where the march stops."
Mr Tirelli said if the government does decide to cancel or postpone carnival, the BCBOA will have their own street party.
"We will have our own street parade. We will go to the Commissioner of Police and have our own street parade. Carnival will continue and this is a freight train that will not stop," he said.
"Plenty people are waiting on this; this is an industry so we are not worried. We cannot hurt our head about things. To be honest the government has failed with the international promotion, they have not been doing a good job. I welcome We March to have a conversation with us and find out what this festival is and what this industry is about. I have supported We March but this is something that they should not be marching against. They should have had a conversation with us."
We March Bahamas intends to stage its third protest on April 2 to, among other things, demand that an election is called before May 7 and the postponement of Bahamas Junkanoo Carnival.
In a Facebook post, the civic group mentioned the successes of its two previous protests, noting that efforts mounted by the group had averted several major events.
At the conclusion of the post, We March declared, "Now, we march again."
The organisation announced six issues that it wanted to have addressed by government within the coming weeks.